THE MIXED CARGO SHIP ARANUI 5 FOR YOUR POLYNESIAN CRUISE
Aranui 5 is a custom-built, dual-purpose passenger/freighter ship designed to offer all of comforts of a cruise liner, while operating as a supply ship. Aranui 5 is classified as a small vessel, accommodating approximately 230 passengers in 103 cabins.
With eight different guest decks, the interior decor reflects the Polynesian heritage of her owners and crew. The ship features a restaurant where all the meals onboard are served in a casual setting; one lounge; two conference rooms, where guest lecturers will offer presentations on various topics related to the Marquesas; three bars, including the Sky Bar with sweeping panoramic views; an outdoor swimming-pool; a boutique; a spa; a gym and the first tattoo studio at sea.
Passenger accommodations range from Premium exterior staterooms, of which more than 90% have a private balcony; to Standard exterior staterooms with a picture window or porthole; and Class C, shared dormitory style cabins with occupancy for four or eight people. Aranui 5's registry is France and thus sails under French pavilion. As such, she operates under the strictest building and safety guidelines, including the requirements of international SOLAS (Safety of Life at Sea) regulations and the French Coast Guard (CCS).

Vessel particulars:
Flag: France

Length: 126 m. Breadth: 22 m. Draught: 5.2 m. 
Cruising speed: 15 knots
Propellers: 2
Freight: 3000 tons
Capacity: 230 passengers – 103 cabins
Facilities:
1 dining room
1 spacious lounge & 2 conference rooms
3 bars including 1 panoramic bar (Skybar)
1 fitness room/gym
1 outdoor swimming-pool
1 shop, 1 library, 1 spa, 1 tattoo studio
2 lifts
Cabins and Suites:
38 Staterooms with porthole including 30 Double Staterooms of 11 sqm, 2 Single Staterooms and 6 Quadruple Staterooms.
28 Deluxe and Superior Deluxe from 13 to 14.5 sqm with a 4 sqm balcony. Capacity of two adults. 
31 Suites from 18 to 22 sqm + balcony from 4 to 12 sqm (including 2 Junior Suites without balcony and 1 Junior Suite with balcony). Capacity for up to three adults.
1 Presidential Suite of 41 sqm with a 12 sqm balcony. Capacity for two to three adults.
Dormitories:
4 dormitories of 4 persons with porthole

1 dormitory of 8 persons with porthole

 


DECK PLANS OF THE MIXED CARGO SHIP ARANUI 5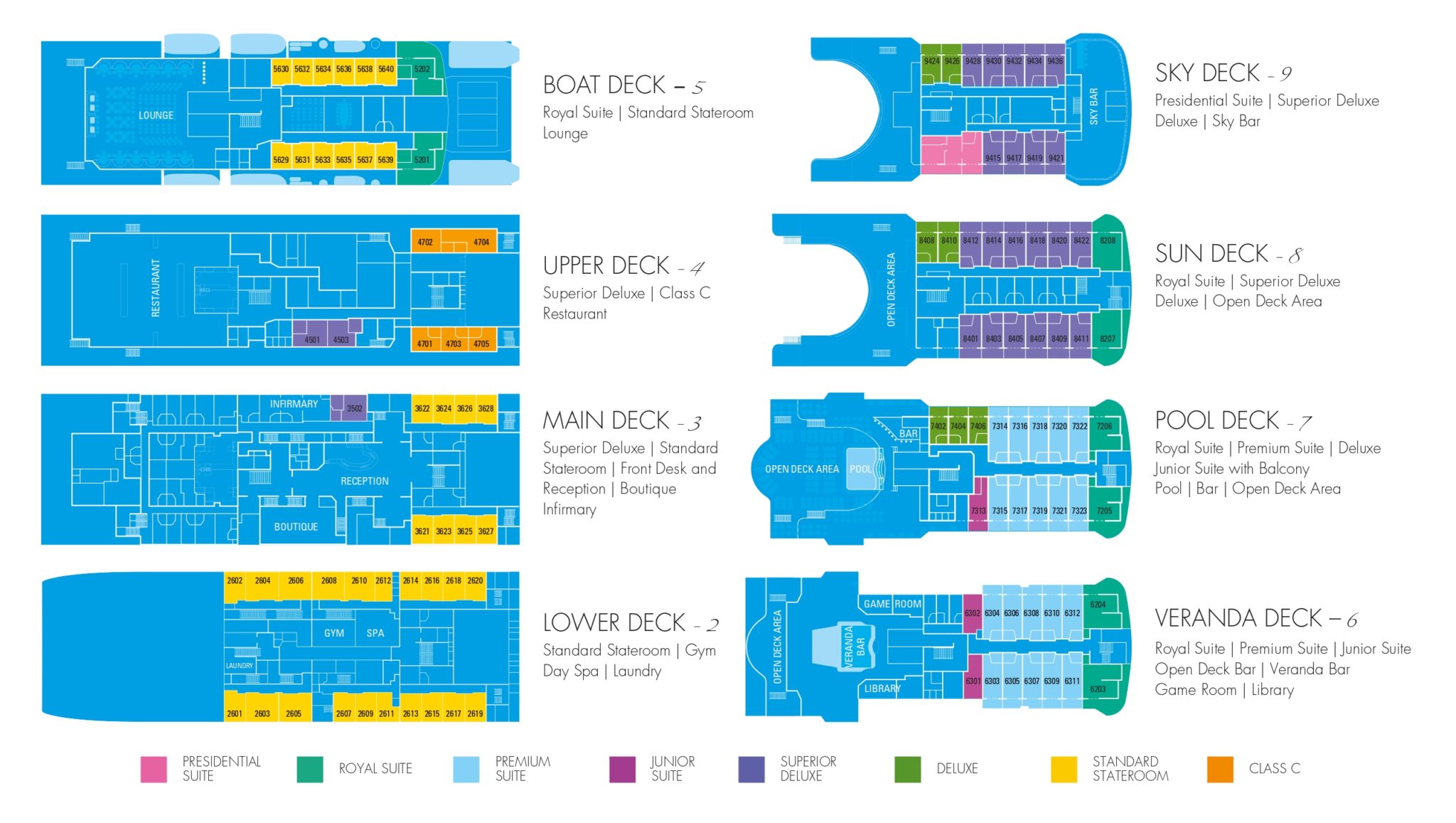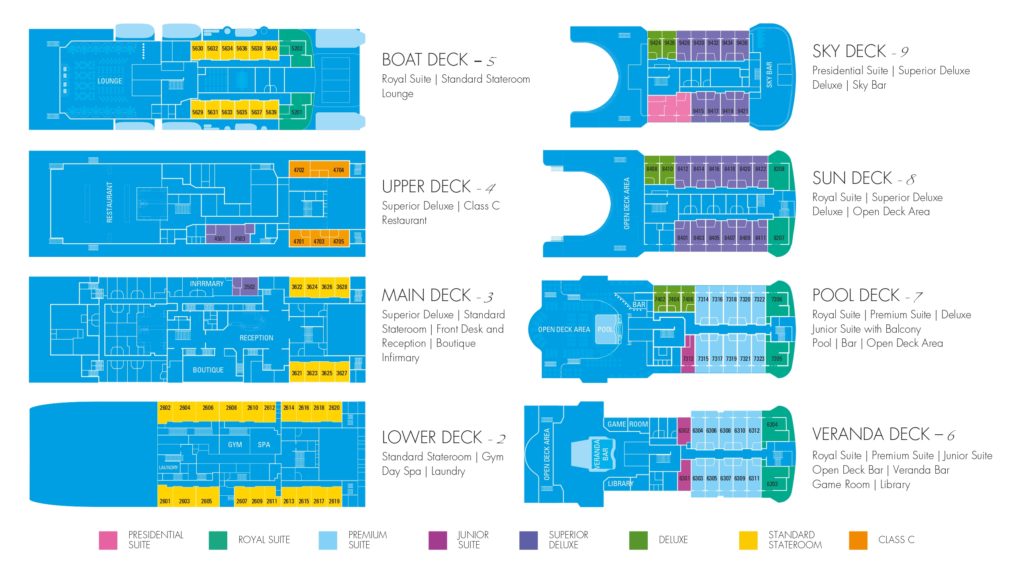 Virtual Visits
Swimming Pool
Bar Veranda
Reception & Shop
DOUBLE STATEROOM
QUADRUPLE STATEROOM
SINGLE STATEROOM
DELUXE
SUPERIOR DELUXE
DORMITORY
DORMITORY
JUNIOR SUITE WITH BALCONY
ROYAL SUITE
ROYAL SUITE WITH OBSTRUCTED VIEW
PRESIDENTIAL SUITE