> Itineraries > DISCOVER THE MARQUESAS - 2022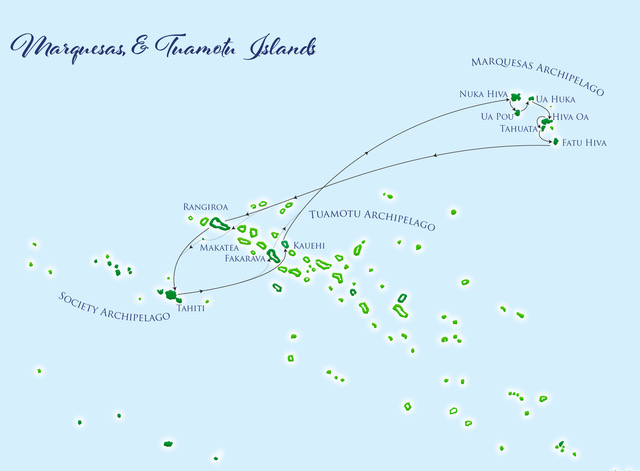 DISCOVER THE MARQUESAS - 2022
From Saturday, May 7 2022 to Wednesday, May 18 2022
12 days / 11 nights
Marquesas Islands, Tuamotu and Society
---
Mythical and mystical. A land that has attracted explorers, writers, painters and artists. Breathtaking landscapes of mountains, valleys, plateaus and cliffs. A nation of former warriors, with their own language and culture. For more than 30 years, Aranui, as the main carrier of goods to the Marquesas, has maintained a vital link with its inhabitants and the outside world.
THEMED CRUISE about « Writers & Artists in Tahiti » by university professor Josiane TEAMOTUAITAU
EXCEPTIONAL DISCOUNTS of -400€ per person (400 USD) in standard cabin, -450€ per person (500 USD) in Deluxe or Superior Deluxe cabin, -550€ per person (750 USD) in Premium, Junior, Royal Suite, -800€ (1000 USD) in Presidential Suite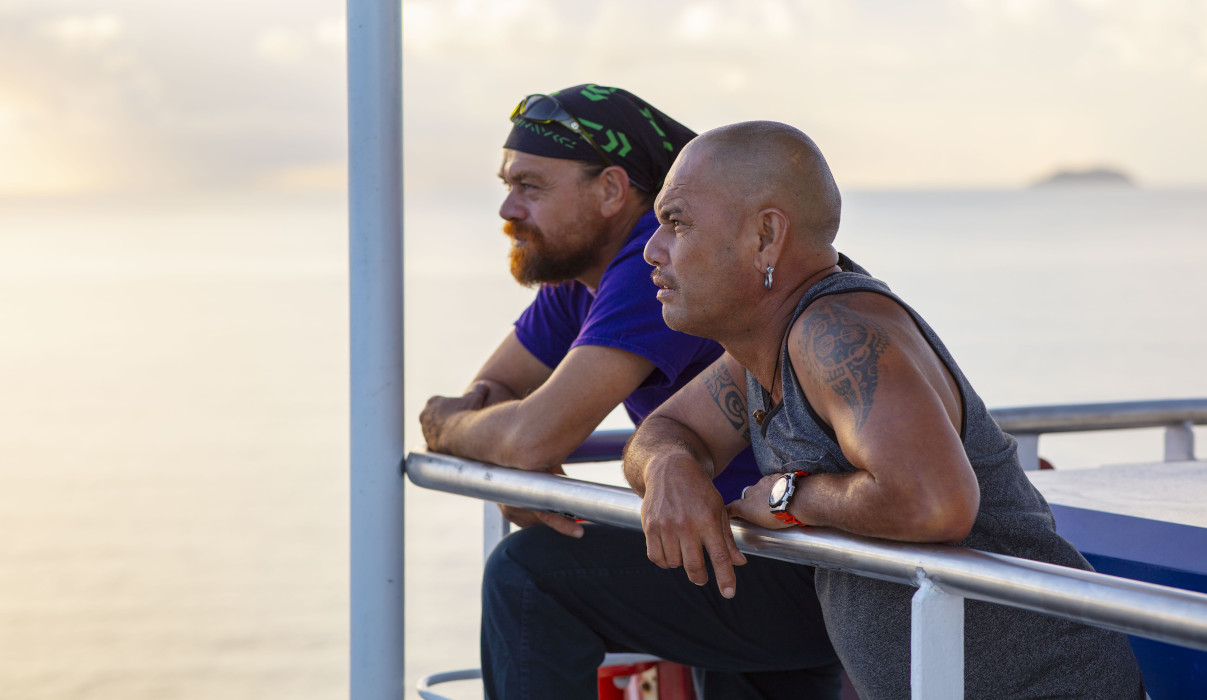 Day 1
SATURDAY – Departure from Papeete (Tahiti)
Aranui will follow the east coast of Tahiti for 1 hour and will set sail for the Tuamotu. A snack will be prepared by our on-board team followed by lectures on information on life on board and the stopovers of different islands. Papeete is a commune and the capital of French Polynesia, located on the island of Tahiti. As the capital of overseas community, it brings together its main institutions such as the High Commission, the government of French Polynesia with its president, the Assembly of French Polynesia, as well as the Economic, Social and Cultural Council. There are also the major infrastructures of French Polynesia such as the Autonomous Port of Papeete, fuel depots, the territorial hospital, private clinics and most industrial and economic infrastructure, as well as banking and financial institutions. With 26900 inhabitants living there in the capital. The urban area of Tahiti, which corresponds to the urban unity of Papeete (continuous habitat), is made up of 6 or 7 communes (Arue, Faaa, Mahina, Papeete, Pirae, Punaauia, plus Paea)12 with a population of 131,695 in 2007, 133,676 in 2012 and 136,771 in 2017. The intercommunity of the agglomeration of Papeete, which takes the form of a joint union managing a common city contract, includes 9 municipalities, including the previous 7, plus Papara and Moorea-Maiao, with 166,267 inhabitants in 201713.Its urban area, meanwhile, is 178,173 inhabitants in 2007.Papeete is the third most populous city in the community after Faa'a and Punaauia.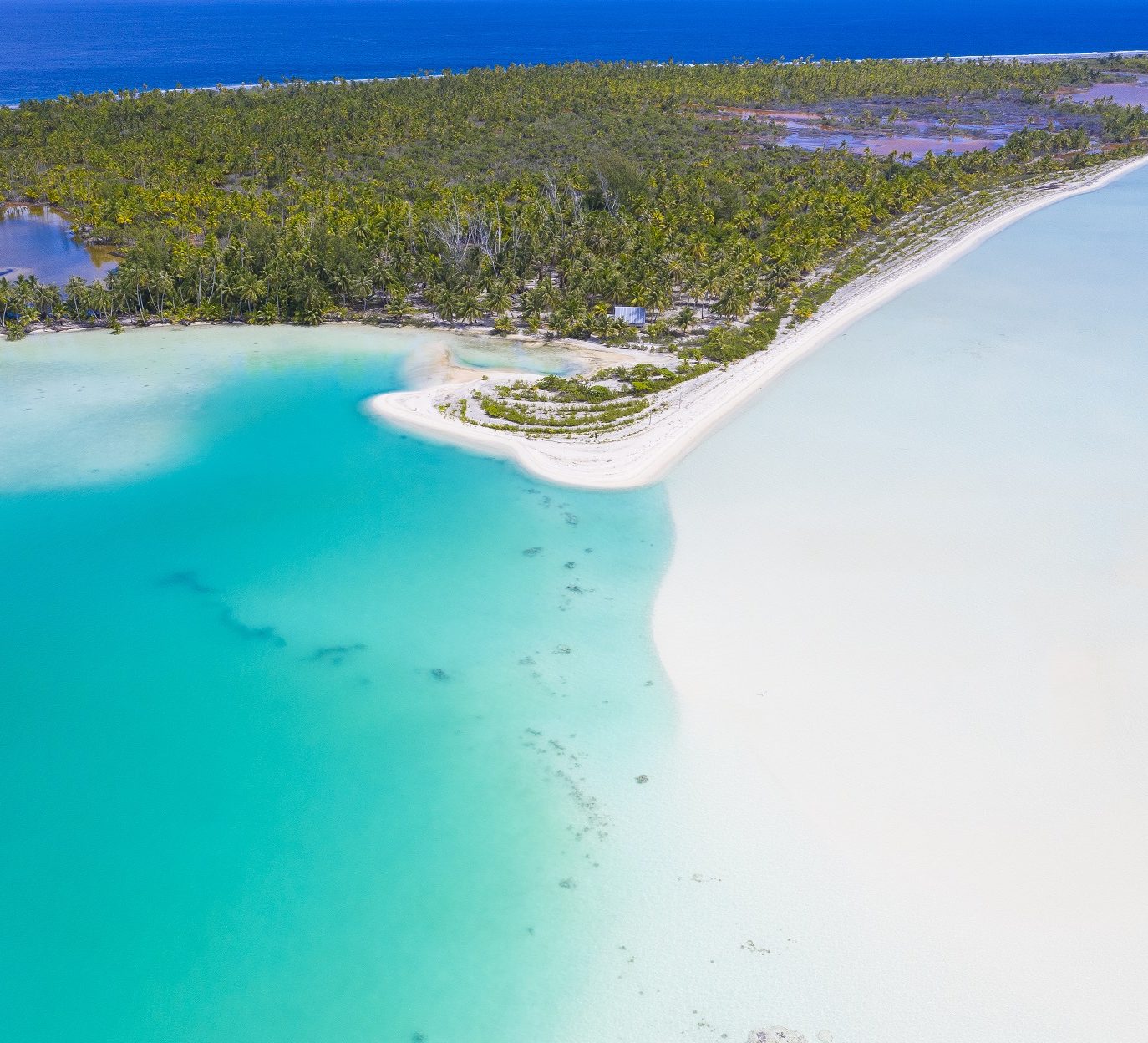 Day 2
SUNDAY – Kauehi (Voyage 2-13) or Fakarava (Voyage 14-26)
Kauehi (January to June) is an atoll located 462 km northeast of Tahiti in the Tuamotu Archipelago. Oval in shape, the atoll extends over 24 km in length and 18 km in width for a land area of about 15 km2. Its 320 km2 lagoon is accessible via the Arikitamiro navigable pass. At the 2017 census, the population of the island is 547 inhabitants, mainly grouped in the village of Tearavero. The atoll was discovered by the English captain Robert FitzRoy in 1835. Kauehi is a nesting place for turtles and is also classified as a "Biosphere
Reserve" by UNESCO in 2006 and 2017. The Aranui will be at anchor in the Kauehi lagoon, opposite the village of Tearavero. Opportunity to visit the
village, its church, swim at the white sand beach and lagoon with a turquoise color gradient.
Fakarava (June to December), the second largest atoll in the Tuamotus, is 450km from Tahiti. The ARANUI enters the lagoon of Fakarava. Passengers go to the beach. The lagoon with its crystal-clear waters, its multicolored fish and its coral reefs invite you to dive or explore with a snorkel… Possibility of diving only for those who are certified. Landing at the Rotoava wharf. Crafts on the quay, optional activities such as bike rental, E-bike, internet
quad, certified diving. Back on board for lunch.
Recommendations: As the sun's rays are particularly intense on the Tuamotu Islands, we recommend that you protect yourself with sunscreen (index 40 minimum), sunglasses, a hat and light clothing. Bath sandals are recommended.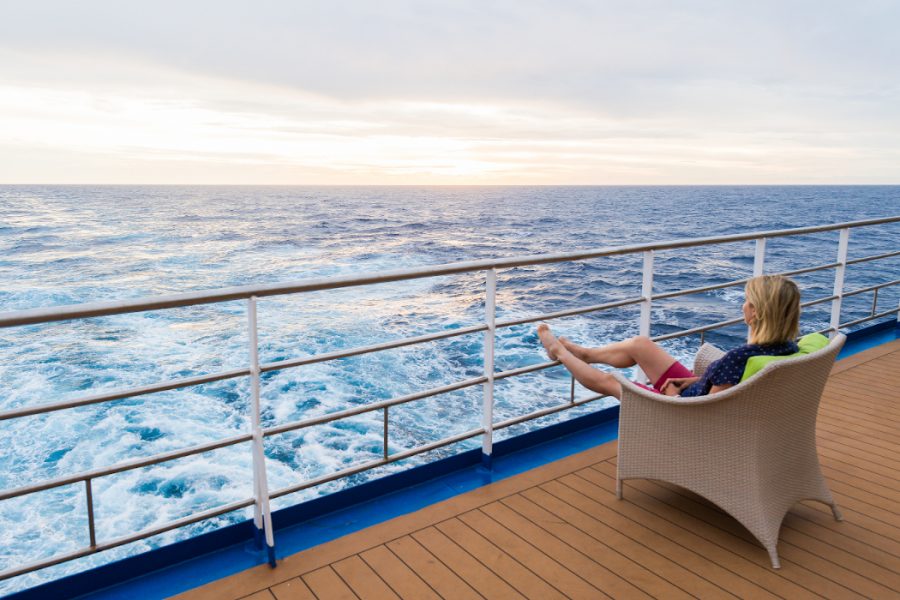 Day 3
MONDAY – At sea
A day to relax by the Pool on Deck 7 or in the comfort of our air-conditioned lounge. Or why not just enjoy the view of the South Pacific Ocean during our crossing to the fascinating Marquesas Islands. Lectures on the culture and history of the Marquesas Islands will take you back in time and give you a complete overview of this ancient civilization. During the cruise, you will also have the opportunity to learn how to move your hips like a true Tahitian! You'll probably spend many evenings socializing at the Bar with your fellow adventurers from around the world. The spirited Polynesian crew will proudly introduce their way of life and entertain you with Polynesian songs and rhythms on their "ukulele", guitars and drums. Before going to bed, set your
watch 30 minutes ahead.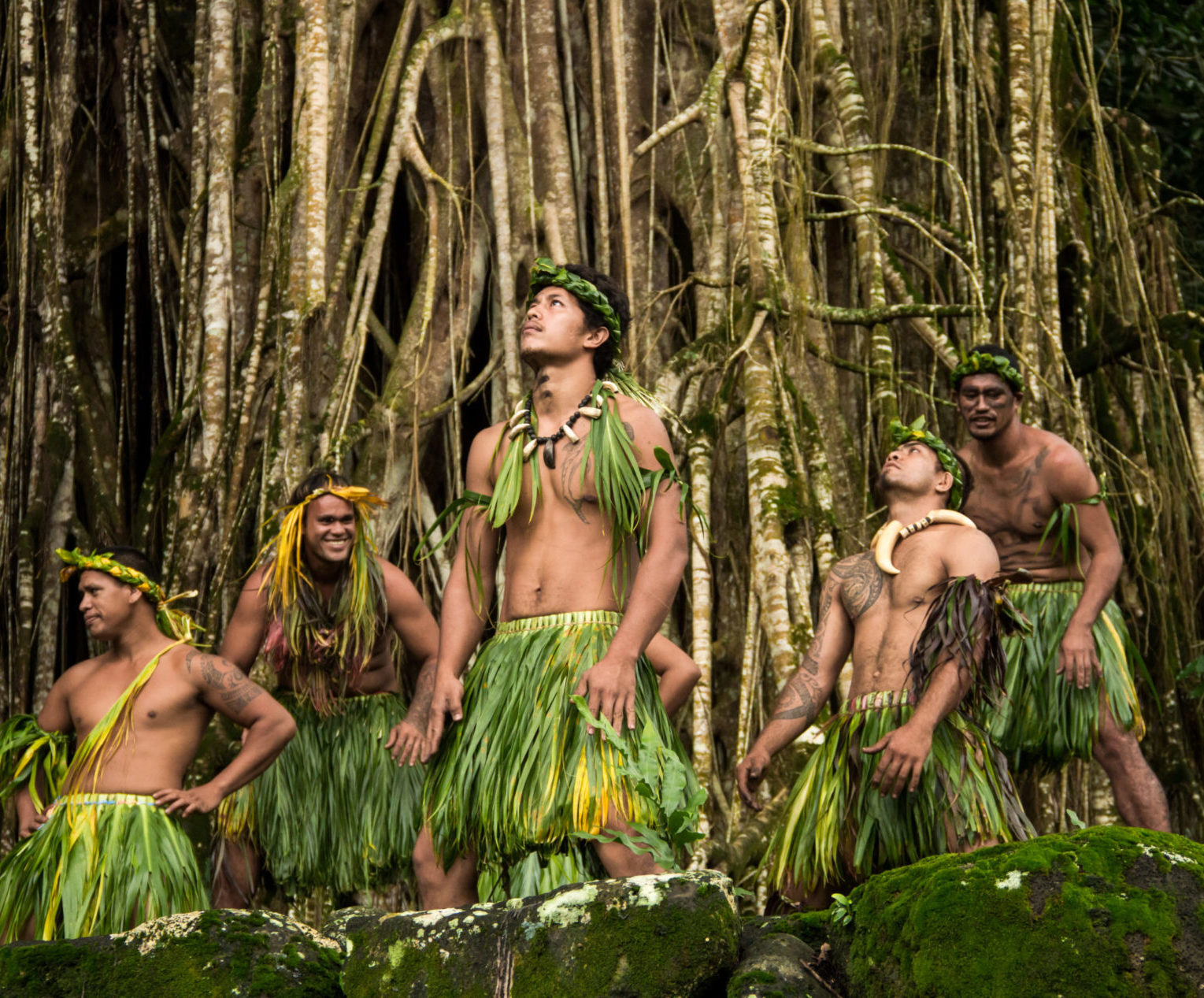 Day 4
TUESDAY – Nuku Hiva (Taiohae)
As the Aranui is offloading, you can explore Taiohae, the small administrative capital of the Marquesas. Taiohae Bay is where Herman Melville, then a 23-year-old sailor and a friend, jumped from a whaling ship in 1842. After breakfast, passengers will disembark to pick up the 4x4s waiting to take them on the day's excursion. Our first stop will be a visit to Taiohae Cathedral. You can visit the Cathedral or go to the market to buy handicrafts. Then we will visit the archaeological site of "Kamuihei" with its giant banyans and
petroglyphs, this will include a performance of the Marquisian and traditional pig dance. Hiking to the site of "Paeke", nearby with paepae, huge stone platforms, where the "Taipi" built their houses. Your first introduction to traditional Marquisian cuisine will be served for lunch. Here the specialty is the "umu", an underground oven where food is cooked for hours. The local music during the meal will provide a great atmosphere. In the small village of Hatiheu, you can visit a museum that displays copies of petroglyphs from
unexplored valleys. Your excursion will continue in the south to Taiohae with its spectacular bay, a giant volcanic amphitheater dominated by towering cliffs dotted with waterfalls. Back in the village of Taiohae, you will also find banks, shops. You can return to the ship from the village on foot or by car.
Day 5
WEDNESDAY – Ua Pou (Hakahau)
From the outside decks, you can admire the unique mountain arrows in UA POU. While the crew unloads supplies, cement, sugar, and loads bags of coprah (dried coconut) and fruit, explore the picturesque village of Hakahau and its church with a hand-carved wooden platform. Meet the island's talented sculptors and  artists, climb to the Cross for stunning views of the mountains, lush valleys and the main village. Another delicious Marquisian lunch will be served: breadfruit, a Marquisian staple with curated goat (a specialty of the Marquesas Islands), raw fish marinated in lemon juice and coconut milk, taro and red bananas. Enjoy an excellent dance performance, including the traditional bird dance at UA POU center.
Possibility to buy optional activities in the morning or afternoon to visit of nearby villages of Hoho) and Hakahetau. Check with the reception for reservation.
Day 6
THURSDAY – Ua Huka (Vaipe'e/Hane/Hokatu)
In the morning light, the Aranui will arrive at Ua Huka. This is an arrival not to be missed! The ship that enters the small bay and the maneuver is really impressive. On the dry land of Ua Huka, visit the small museum that offers exquisite replicas of Marquisian art and our guides will immerse you in this ancient civilization. Return to your 4×4 to explore the island, stopping for stunning views of the Pacific, visit the arboretum born of the passion of the former mayor of the island, before reaching the beautiful village of Hane. Lunch will be served at a local family restaurant. Of course, Ua Huka will be another opportunity to discover craft products. Wooden sculptures, as well as engraved coconut shells, are some of the island's specialties. After lunch,
return on board and make sure you are on deck as the Aranui will sail all along the coast of Ua Huka for more magnificent views.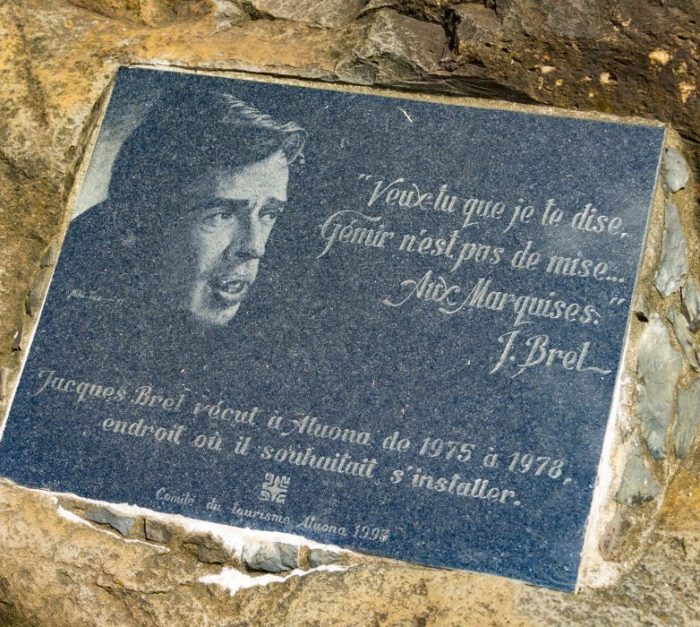 Day 7
FRIDAY – Hiva Oa (Atuona) 
The Aranui will arrive in Hiva Oa in the morning, where you will have plenty of time to explore Atuona, the second largest village in the Marquesas. This is where Paul Gauguin lived and created part of his work. You can visit the colonial store where he bought his bread, as well as a replica of his sad and famous "house of pleasure" and the Museum. Walking up the hill to the cemetery, you'll have a stunning view of the Harbour. Beneath a huge frangipani tree is a tombstone with the simple words: Paul Gauguin 1903. Nearby is the tomb of another famous European who was also seduced by Hiva Oa: Belgian singer-songwriter Jacques Brel, who died in 1978. Lunch on board for all passengers.
Possibility to buy optional activities to visit the extended archeological site of Taaoa. Ask for reservation at the reception.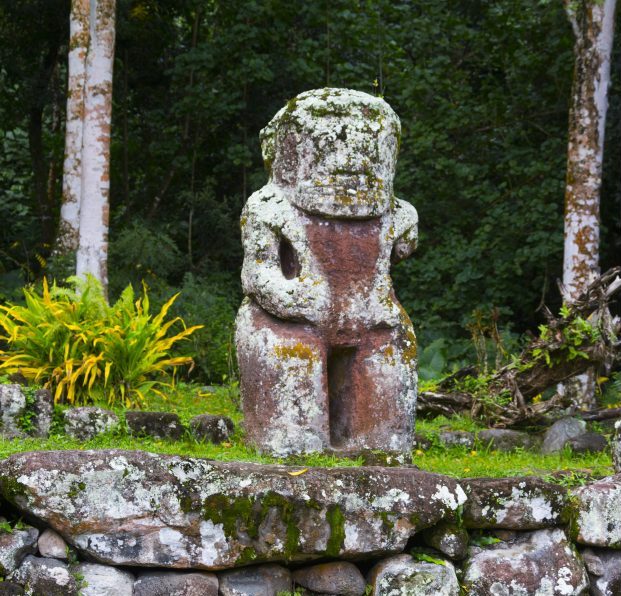 Day 8
SATURDAY – Hiva Oa (Puamau) – Tahuata (Vaitahu)
In Puamau, traveling by 4×4 to the most incredible archaeological site for the "tiki" (old religious stone sculptures). Once you reach Mea'e Iipona, our knowledgeable guides will tell you the stories of these statues haunting ancient times. Surrounded by beautifully lush gardens, the site is overwhelming and has many of what Polynesians call the "mana" (spiritual power). Only a small part of the site has been restored and most of them are still buried under trees and massive rocks.
After lunch on board, the Aranui will sail to Tahuata, where you can enjoy the afternoon in the small village of Vaitahu. In the afternoon in Vaitahu, the Aranui will anchor in the small bay of Tahuata. On this leaf-shaped island, the air is thick with the scent of the Tahitian tiare and frangipania. In 1595, Spanish explorers landed in the village of Vaitahu and opened the fire on a crowd of curious islanders, killing about 200 people. Tahuata was also the site of the first French colony in the Marquesas in 1842. The large church built by the Vatican, is decorated with beautiful Marquisian sculptures and a magnificent stained glass window. Tahuata is famous for its exquisite bone and helmet shell sculptures. There will be a lot to choose from in the village.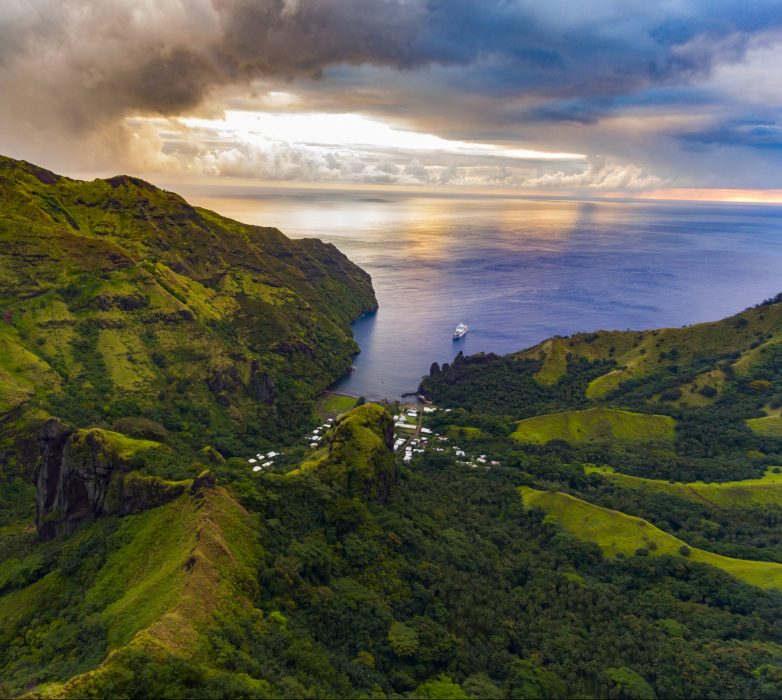 Day 9
SUNDAY – Fatu Hiva (Omoa – Hanavave)
It is the lushest and furthest island of the Marquesas. The only access is by sea, as there is no airport on Fatu Hiva. It is also the island of the "tapa" and you will discover everything about this traditional fabric. In the quiet village of Omoa, you will see women beating the murier, Banyan or bread fruit tree bark on log. The bark is then dried and used as a canvas where the inhabitants will paint ancient conceptions of the Marquesas. Fatu Hiva is also known for its hand-painted "pareo" and "monoi" coconut oil infused with flowers from "Tahiti tiara", vanilla or Santal wood. You will meet qualified sculptors in the large craft centre. This will be another great opportunity to buy souvenirs from the Marquesas.
Before lunch, the Aranui will sail across the island to Hanavave Bay, also known as the "Bay of the Virgins." Sports passengers can choose to walk. On this unforgettable 15-kilometre hike, you can enjoy stunning views of the towering cliffs and views. For hikers, a picnic will be served at the top of the mountain (difficulty scale 9/10). To end a brilliant day, the sunset in Hanavave Bay is a moment of pure happiness.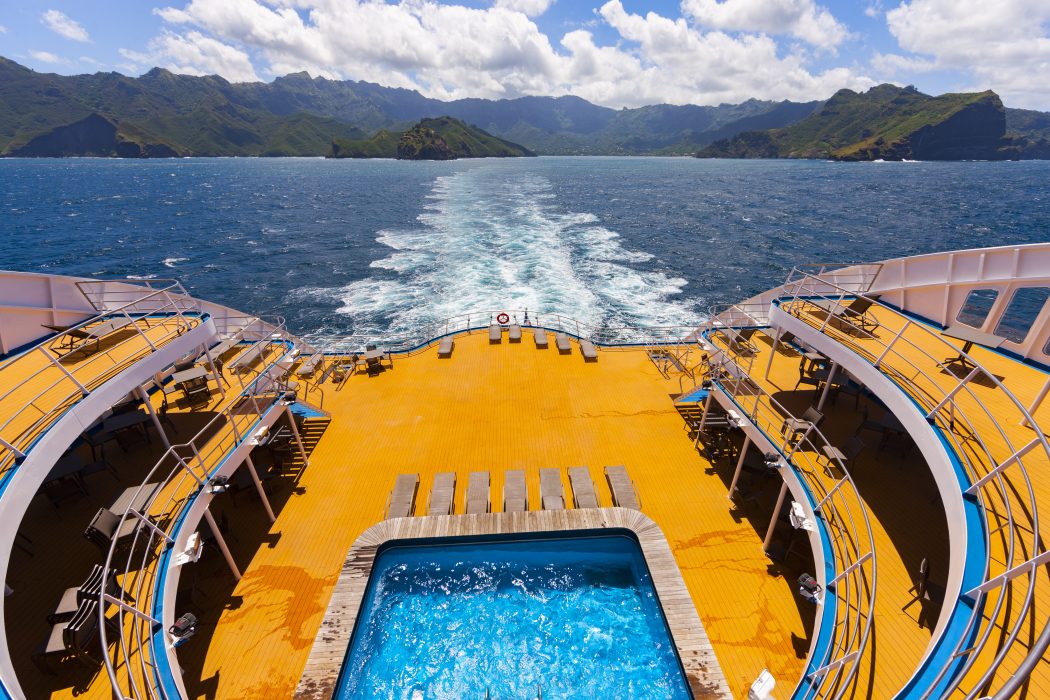 Day 10
MONDAY – At sea
A day to relax by the pool on deck 7 or in the comfort of our air-conditioned lounge . Or why not just enjoy the view of the South Pacific Ocean as we sail to the fascinating Tuamotu Islands. Lectures and activities will be offered throughout the day. Before going to bed, set your hour back by 30 minutes, back to Tahiti time.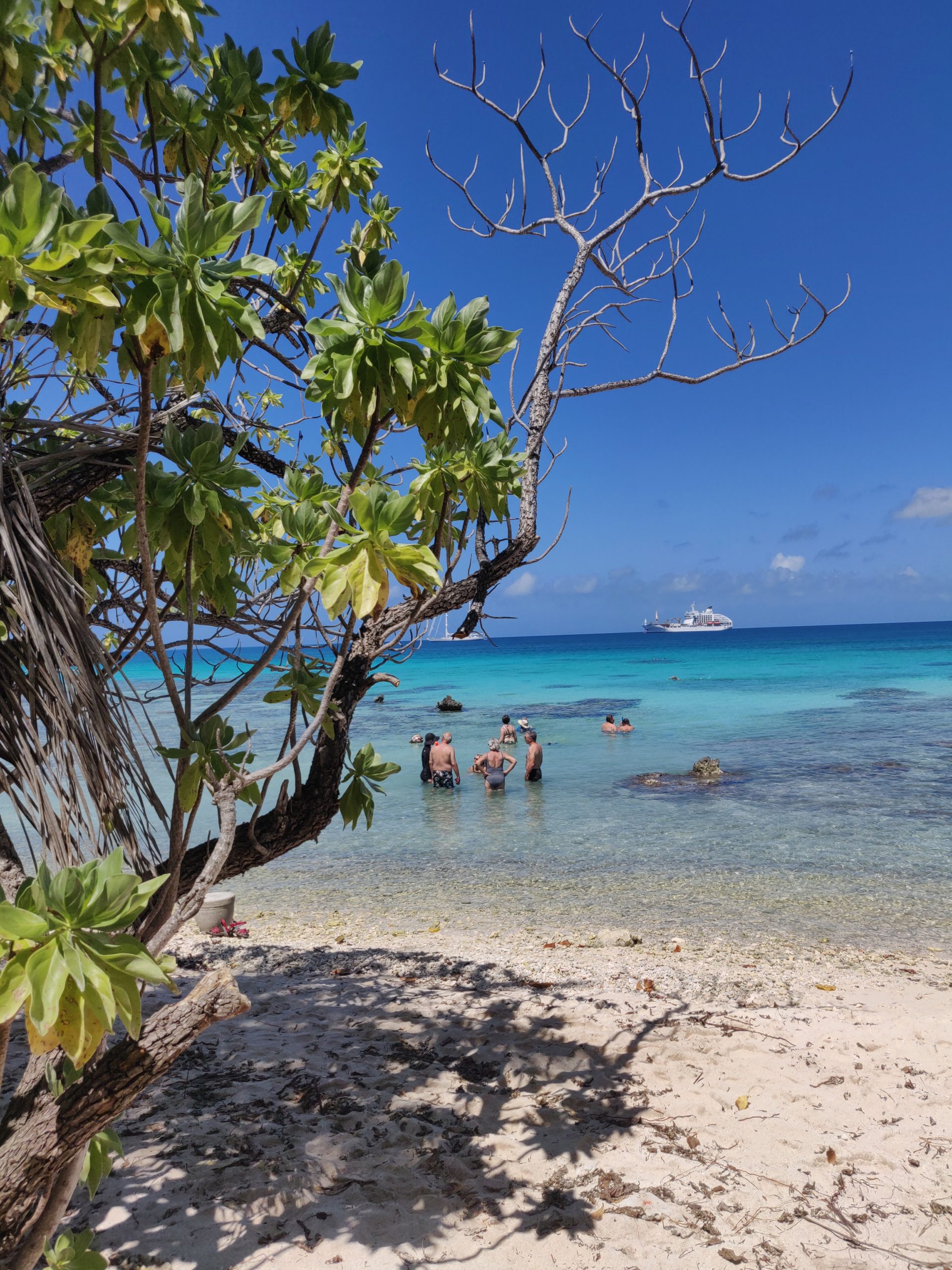 Day 11
TUESDAY – Rangiroa (or Makatea for Voyages 14, 15, 26) 
RANGIROA: From the Open decks, observe our approach and our arrival in the largest atoll of French Polynesia and the second largest in the world. You can see playful dolphins greeting the Ship as we enter the Tiputa Pass, one of
Rangiroa's passes. The glass-bottom boat and scuba diving trips are available (registration is required and additional fees apply). Scuba diving is ranked here as one of the best in the world (certified divers only). If you decide not to visit, enjoy the white sand beach of Rangiroa and the translucent lagoon. The local "mamas" will have an excellent display of shell necklaces, chains and key rings, other small souvenirs for sale on the beach. The Aranui will depart in late afternoon to the island of Tahiti.
MAKATEA (V14/22 from July 2nd to 13th 2022 – V15/22 from July 16th to 27th
2022 – V26/22 from December 17th to 28th 2022) :
Aranui offers this opportunity to visit the remains of Makatea, phosphate mining, cross the island on foot or by car, visit caves, picnic under the cliffs or on the beach. From the harbor, the Aranui will follow the Makatea coast before continuing its journey to Tahiti. An elevated atoll or exonerated atoll is a type of atoll or coral island where all or part of the earth is composed of an ancient coral reef that has emerged. The term makatea refers to a type of raised atoll with the remains of the ancient volcanic island at its centre. This term is also used to specifically refer to coral escarpments found in all types of raised atolls. Makatea is also the name of a coral island located in the
Tuamotu Archipelago (French Polynesia), where a phosphate deposit was mined from 1917.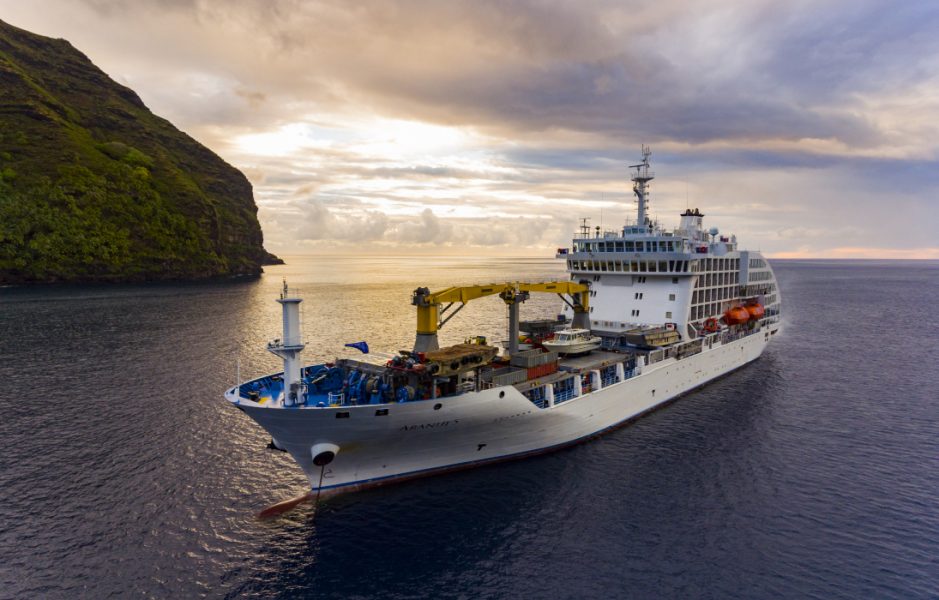 Day 12
WEDNESDAY – Return to Tahiti (Papeete)
This is the end of our journey. It's time to say Nānā! (Goodbye) to your travel companions, to the Polynesian staff and Aranui guides.
What's included
RATES INCLUDE
Cruise transportation and related taxes (tourist tax, port tax, fuel, TDC), shipboard accommodation, 3 meals per day, a bottle of wine to share among 4 passengers for scheduled onboard meals, lunches in local restaurants, planned guided shore excursions to remote villages and archaeological sites, cultural dance shows, lecturers onsite and onboard.  Rates are per adult, in double or single occupancy. These fares are correct at the time of printing and are subject to change; with or without notice.
RATES DO NOT INCLUDE
The fuel surcharge, per person, of 125€ / 140 $ US / 190 $ AUS / 200 $ NZD / 15 000 XPF.
Shipboard purchases, liquor, gratuities, port taxes other than those specifically provided for, and other personal items. Rates quoted at the time of printing are based on current costs and are subject to change up to and including the date of sailing.
SCHEDULE & EXTRA COST PROVISION
If, due to weather or other uncontrollable reasons, you are required to spend one or more additional nights, you will be responsible for your own hotel and meal costs. In addition, because the primary function of vessels in the service of Compagnie Polynesienne de Transport Maritime is to carry freight, the departure dates, ports of call, and duration of cruises may be subject to variation both prior to departure and en route. Freighter passengers should have a flexible time schedule and anticipate the foregoing possibilities. While we do everything possible to inform and assist our clients, neither CPTM nor its agents will assume additional expenses, hotel or meal costs associated with delays or changes in itinerary and schedules.
ITINERARY CHANGES
Routes and activities are indicative and can be modified according to weather conditions or availability. CPTM pledges to make every effort to operate all cruises as advertised. CPTM reserves the right to alter or curtail the itinerary, or substitute sightseeing, ports of call or conveyances as deemed necessary.
Speakers
Guest lecturers who specialise in the Marquesas and other fields related to French Polynesia such as history, culture, art or archaeology, will share their knowledge and insights as part of a series of onboard lectures throughout the year. Lectures are held in conference rooms.
Optional excursions
At every port, guests can enjoy an array of included excursions.  For a bit more adventure, there are some optional activities to choose from. The following can be booked onboard and at an additional cost:
4X4 DRIVES (half-day or full day) in Ua Pou
PRIVATE TOURS (30 min or 3 hours) in Fatu Hiva
DIVING, in Hiva Oa (first dive and certified divers) & Rangiroa (certified divers)
GLASS BOTTOM BOAT, in Rangiroa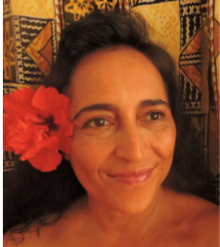 JOSIANE TEAMOTUAITAU (PhD in Civilization)
Josiane Teamotuaitau is Tahitian; her family comes from Ra'iatea, but she grew up in Tahiti. After high school, she left for France where she studied foreign languages. She spent 10 years there before coming back to Tahiti; she taught English at Tai'arapu Senior High School for 20 years and then decided to retire from National Education to have more time for her family and research. As she's always been deeply interested in the history of her country, in 1994 she undertook research in ethnology and history. Now a PhD in Humanities she still teaches at the University of French Polynesia and writes on the history of Tahiti. In 2016, her book dedicated to the history of Tahiti and entitled Fa'ati'a mai ia Tai'arapu, Grandeur et déclin des Teva i tai' was published. She is the current Vice-President of the Société des Études Océaniennes (Oceania Studies Society) that celebrated its 100th anniversary in 2017, and is also involved in various cultural projects such as traditional sailing as President of Fa'afaite, Tahiti Voyaging Society.