Home > Itineraries > AUSTRAL ISLANDS & RAIATEA - MARCH 2022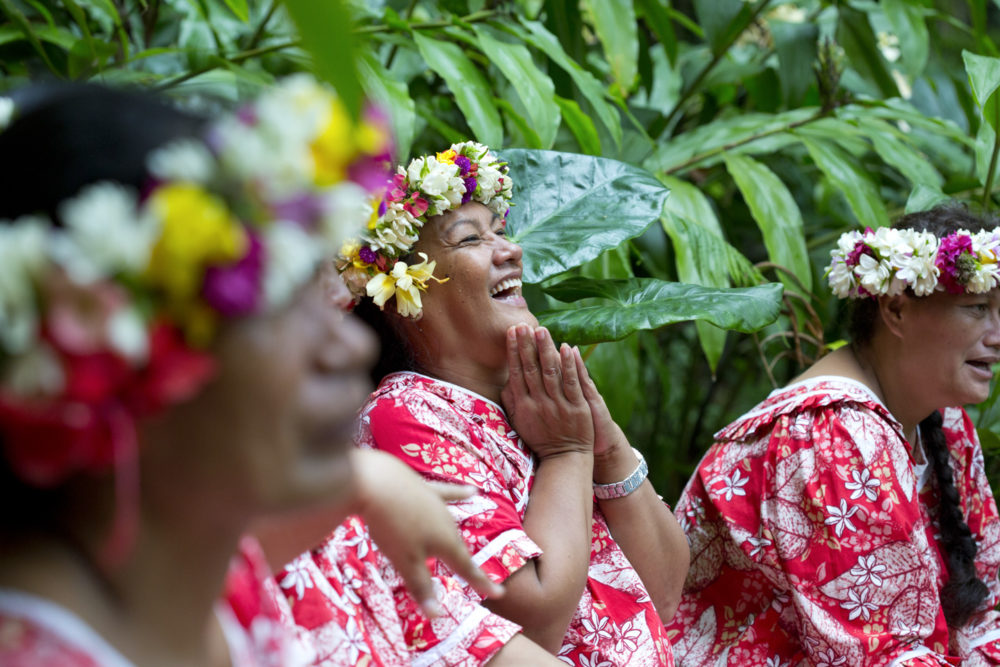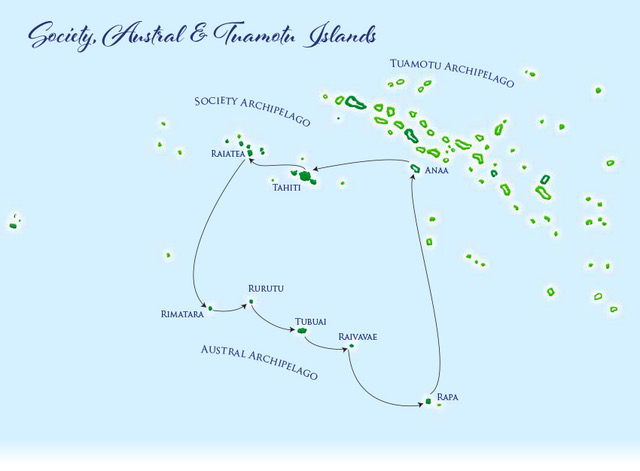 AUSTRAL ISLANDS & RAIATEA - MARCH 2022
From Saturday, March 5 2022 to Thursday, March 17 2022
13 days / 12 nights
Austral Islands, Raiatea & Anaa
---
Discovered in the 18th century, the Austral Islands are located 600 km south of Tahiti.  Breathtaking landscapes, sheer mountains, valleys, these islands are renowned for their agricultural and artisanal activities, their caves sheltering ancient burials and whale watching.
NEW!
Special cruise to the Austral islands and Raiatea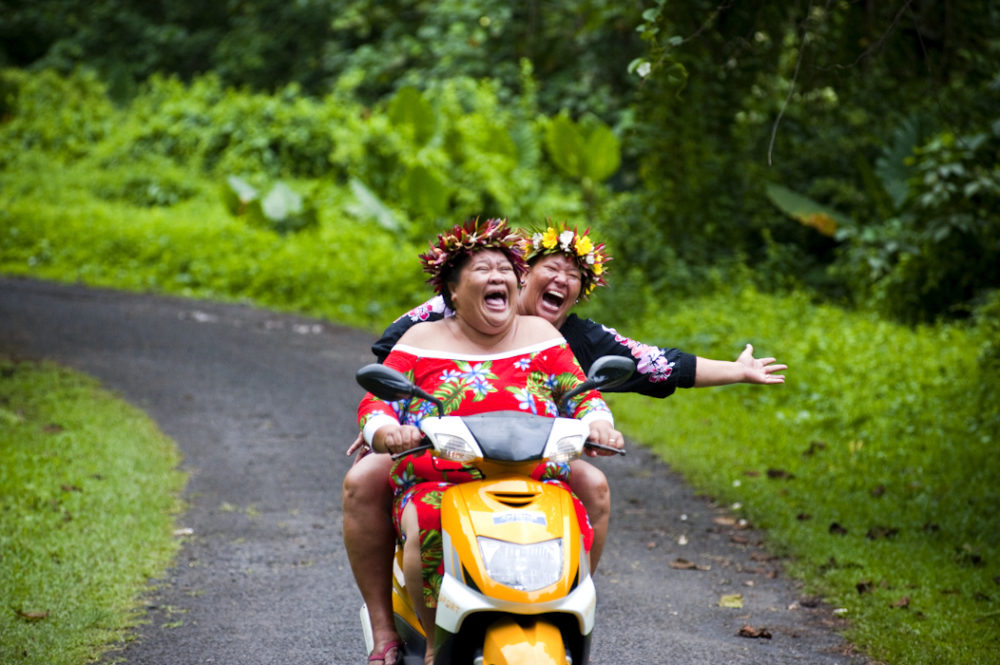 Day 1
SATURDAY – Departure from Tahiti (Papeete)
You will be warmly welcomed by our Polynesian staff and will take your bearings on the boat before the great journey to Raiatea.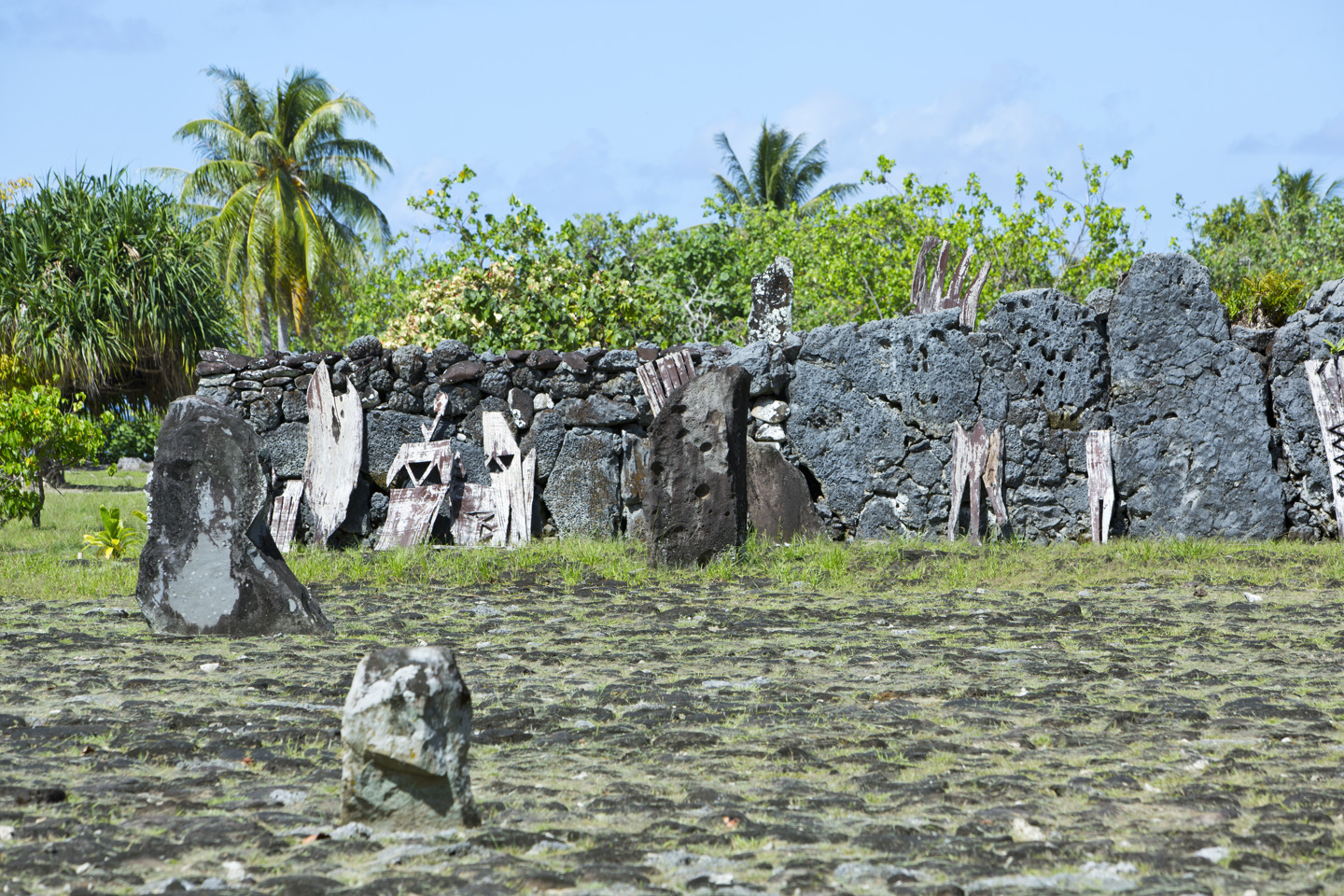 Day 2
SUNDAY – Raiatea, Society Islands
Originally called Havai'i Nui, Ra'iatea is considered to be the cradle of the ancestors and the ma'ohi civilization, which is claimed by all the Polynesians of the triangle (Hawai'i, New Zealand, and Easter Island). The expansion of Polynesians throughout the Pacific began from this exact site on Raiatea. After offering blessings through sacred ceremonies and celebrations, outriggers with the original pioneers ventured north to Hawaii and west to New Zealand. As the first Polynesian island to be populated, Raiatea maintains the most spectacular and first international marae of the Polynesian triangle, called Taputapuatea and is where inauguration ceremonies, political alliances and international meetings would have taken place in ancient times.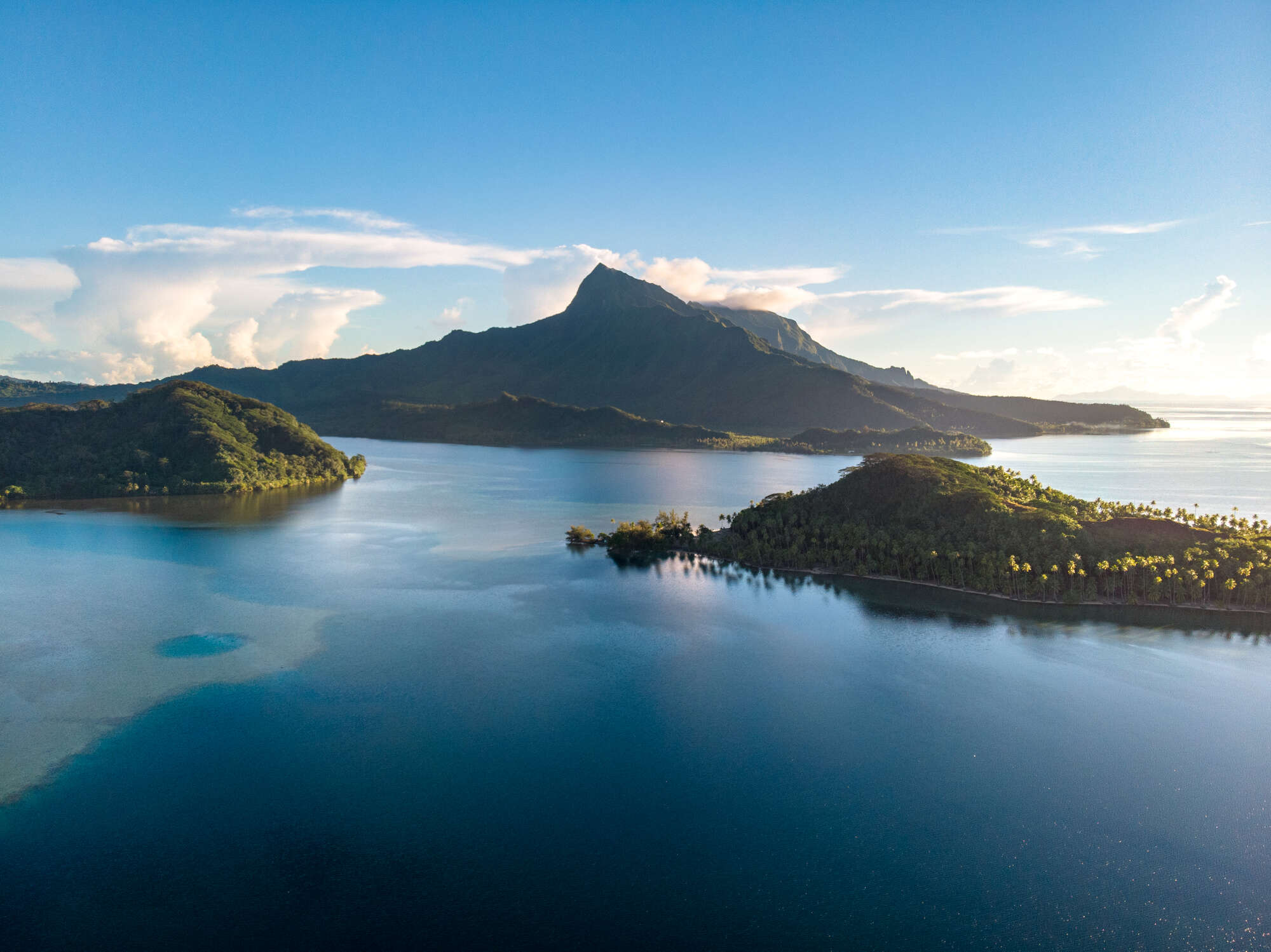 Day 3
MONDAY – At sea
Enjoy a day at sea to relax by the pool and participate in one of the lectures or activities offered by our guides.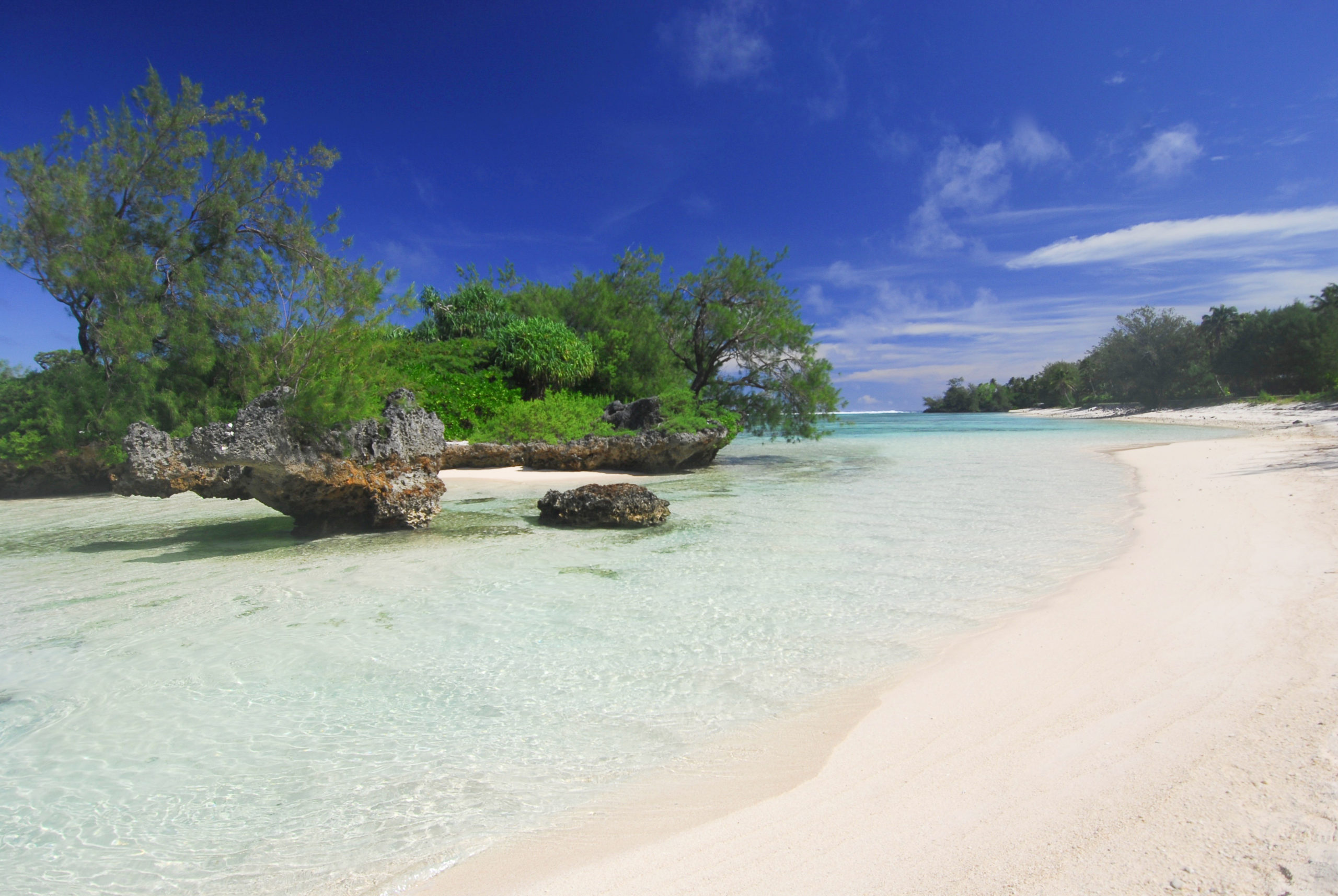 Day 4
TUESDAY – Rimatara, Austral Islands
The Aranui is adrift – tenders to the dock. Welcome with a walk through purification smoke (ancient tradition of Rimatara's inhabitants). Although Rimatara is the smallest of the Austral Islands, it charms the visitors with its hidden treasures. In the hollow of this circular island, one has the impression that time has stopped. Departure for a circle island tour by bus and visit to the villages of Amaru, Anapoto and Matuaura. Visit of handicraft centers. In Rimatara, the main occupation of the inhabitants, apart from agriculture, is basket weaving and especially the preparation of fara pae'ore leaves (a variety of pandanus without thorns) which are used to make cloth.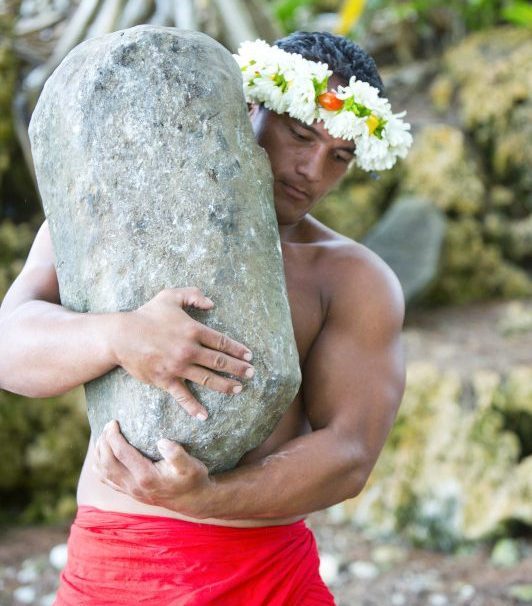 Day 5
WEDNESDAY – Rurutu (Moerai-Auti-Avera), Austral Islands
Rurutu, one of the two largest raised atolls in French Polynesia, is unique because of its geological structure which is surprising as one does not expect to discover such landscapes in the South Pacific. Basalt and limestone cliffs dotted with caves where islanders once lived, a volcanic interior with lush tropical jungle, white sand beaches and beautiful bays offer breathtaking views. The Aranui is adrift – tenders to the pier of Moerai. Welcome in the village of Moerai. Visit of the Mitterand cave, the handicraft center with weaving demonstrations. Local coffee for sale. Visit to the Royal House, well known for the confection of local patchwork quilts, the « tifaifai », followed by a demonstration of "stone lifting" (traditional custom).
Circle island tour by « truck », starting from the Northern or Southern coast. In the North, visit to the « cave Mitterand », the marae in Vitaria's village. In the South, swimming at Naairoa's beach, taro plantation visit with explanation about the cultivation system, old houses made of lime stone.
Day 6
THURSDAY – Tubuai (Mataura), Austral Islands
Tenders to the small dock at Town Hall with welcome and music. Handicraft at the Town Hall of Mataura with weaving demonstrations (hats and baskets made of pandanus leaves…), necklace making, « hue » (gourd) for sale, etc. – Scuba diving with « La Bonne Bouteille » (optional activity). Free time in the village (Post Office, Bank…) Visit of « Fort Georges », « marae » with a « kava ceremony» (dances and songs…) and a wood carver in the village of Tamatoa. Scuba diving with « La Bonne Bouteille » (optional activity).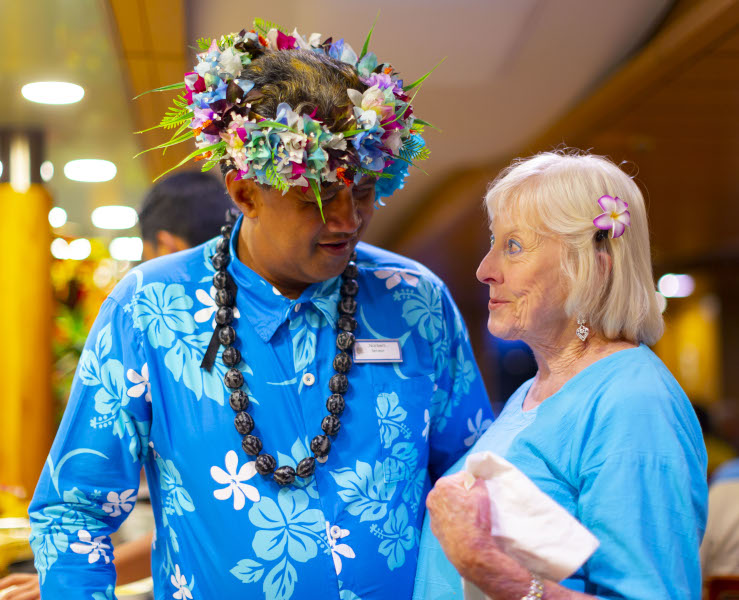 Day 7
FRIDAY – At sea
Enjoy a day at sea to relax by the pool and participate in one of the lectures or activities offered by our guides.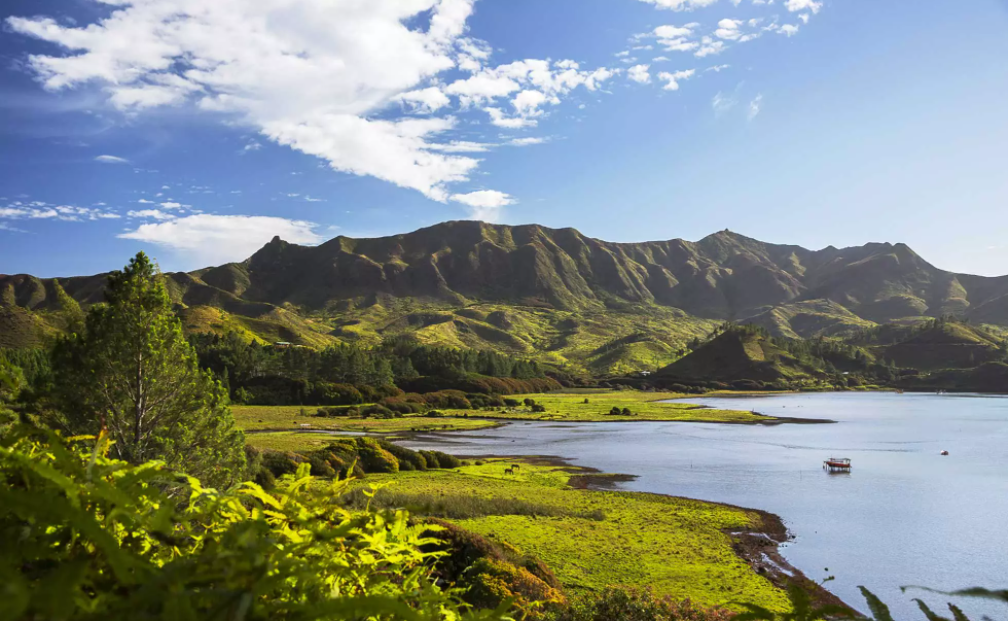 Day 8
SATURDAY – Rapa (Haurei), Austral Islands
The Aranui is tied up at the pier of Rapa in the village of Haurei. Welcome with music and flowers « lei ». Located in the extreme south of the Austral archipelago, this crescent-shaped island with its coastline cut by 12 very deep bays reminiscent of Nordic fjords is one of the most isolated and least populated in French Polynesia. Rapa-Iti – or "Little Rapa" as the island is known here – has a strong cultural link with Easter Island, known as Rapa-Nui or Big Island by the Polynesians. Legend has it that Rapa-Nui was first settled by the people of Rapa-Iti. Once home to fierce warriors who lived in fortified villages built on terraces among the volcanic peaks, the island's inhabitants now live by farming and fishing.Truck shuttle from the pier to the Cultural Center. Visit to the Cultural Center with handicraft. Free time in the village of Haurei. Visit to the "pa" (fort) for good hikers, very steep hill. Truck shuttle between the Cultural Center and the pier (for those who want to go back on board).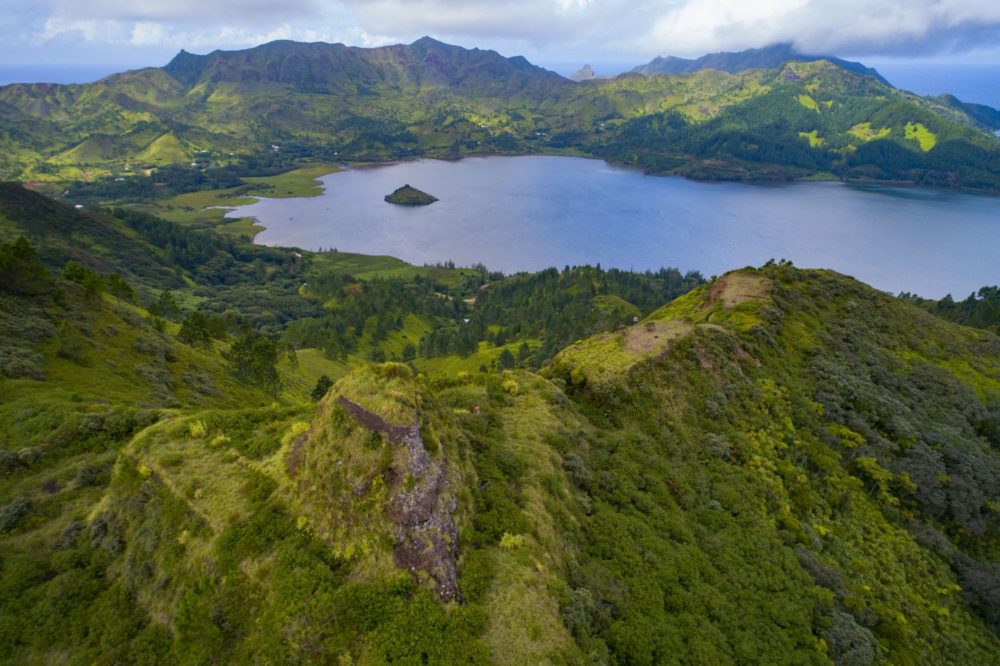 Day 9
SUNDAY – Rapa (Haurei), Austral Islands
The Aranui is at the pier in the village of Haurei-Rapa.
« Truck » to morning Church service.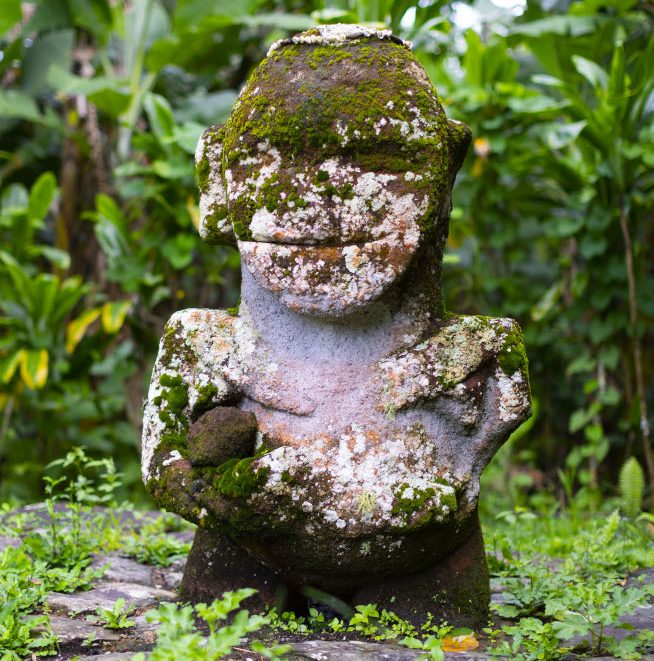 Day 10
MONDAY – Raivavae (Mahanatoa-Rairua-Vaiurua-Anatonu), Austral Islands
Known as the "Bora Bora of the Austral Islands," Raivavae's white sand beaches, huge emerald lagoon, and 28 motus surrounding the lush main island have earned it this distinction. Giant stone tikis resembling those of the Marquesas and Easter Island, including an unusually smiling tiki, wooden carvings, an open-air sacred temple, and Polynesian pirogues are just some of the archaeological features you'll discover on an island tour.
Tenders to the beach of Mahanatoa with flowery welcome. Departure by bus for a circle island tour to visit a smiling "tiki" in Rairua's village. Food tasting with local music. Handicraft, woven hats and baskets made of pandanus leaves. Meeting on the beach of Mahanatoa for a typical buffet from Raivavae. Optional activities : – Motu « pool » excursion with swimming and snorkeling.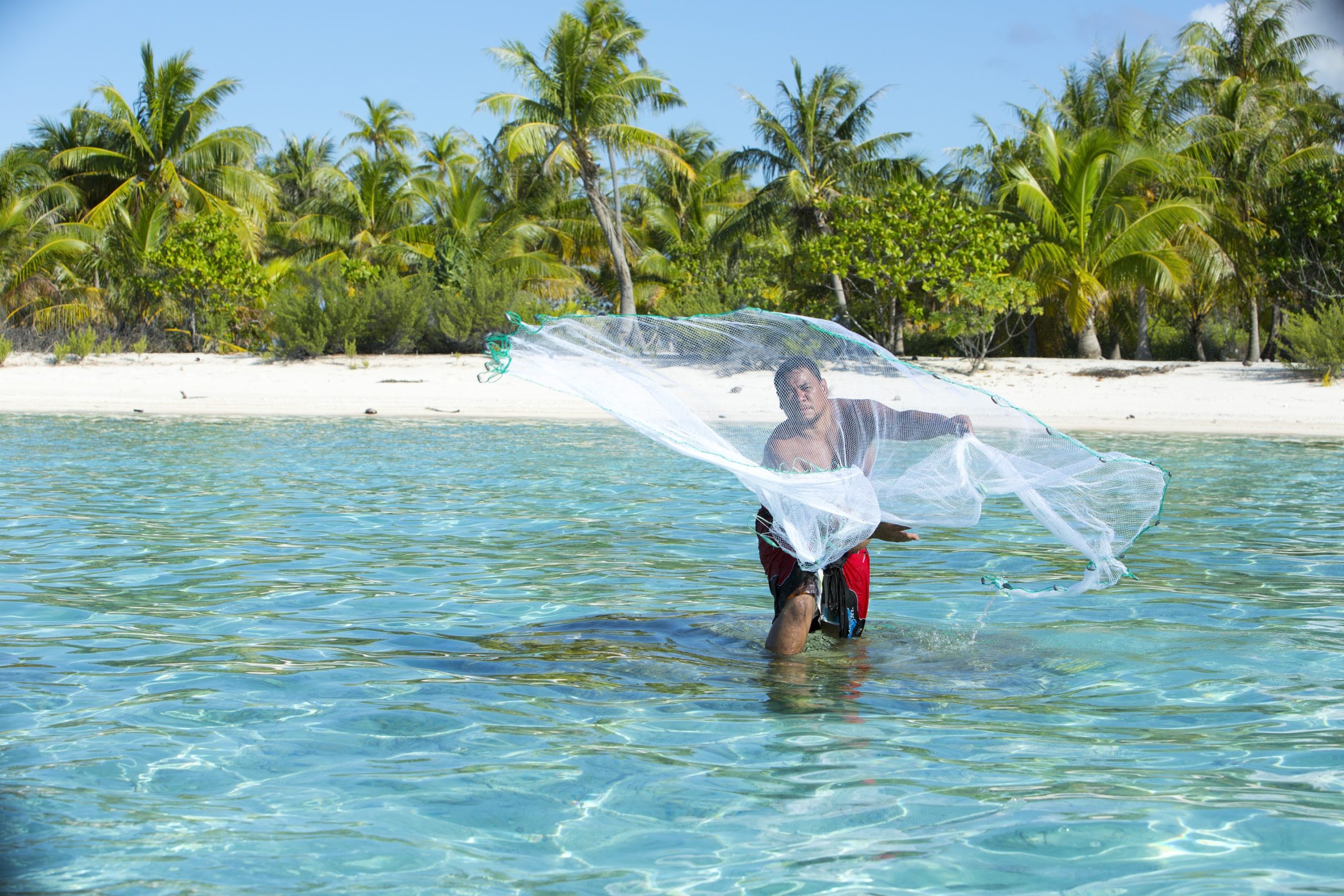 Day 11
TUESDAY – At sea
Enjoy a day at sea to relax by the pool and participate in one of the lectures or activities offered by our guides.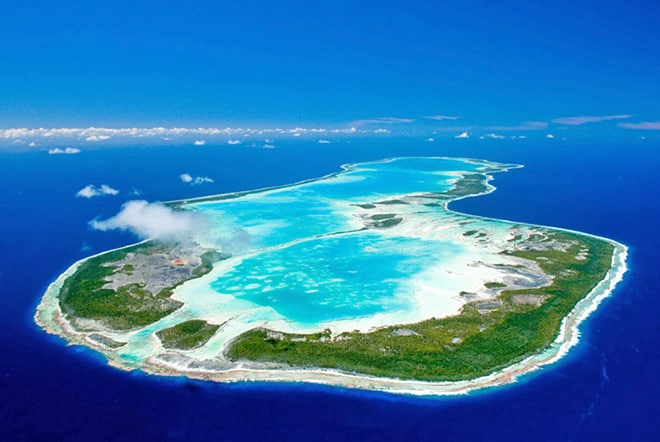 Day 12
WEDNESDAY – Anaa, Tuamotu Islands
The Aranui is adrift in Anaa. Tenders to the small dock of Tukuhora. A small atoll with less than 500 inhabitants, Anaa wrote its way into the history books as the birthplace of Tahiti's royal family — the Pomare Dynasty. These days it's best known for its luminous jade lagoon with green clouds above from the sun rays reflecting off the water and picturesque motus with no less than eleven little islands scattered around the atoll. Be introduced to local craftsmanship and challenge your family or friends to the traditional javelin throw. Walk for a visit to the village.Visit to Anaa Pito, a whole in the lagon (optional activity) Polynesian Feast on board.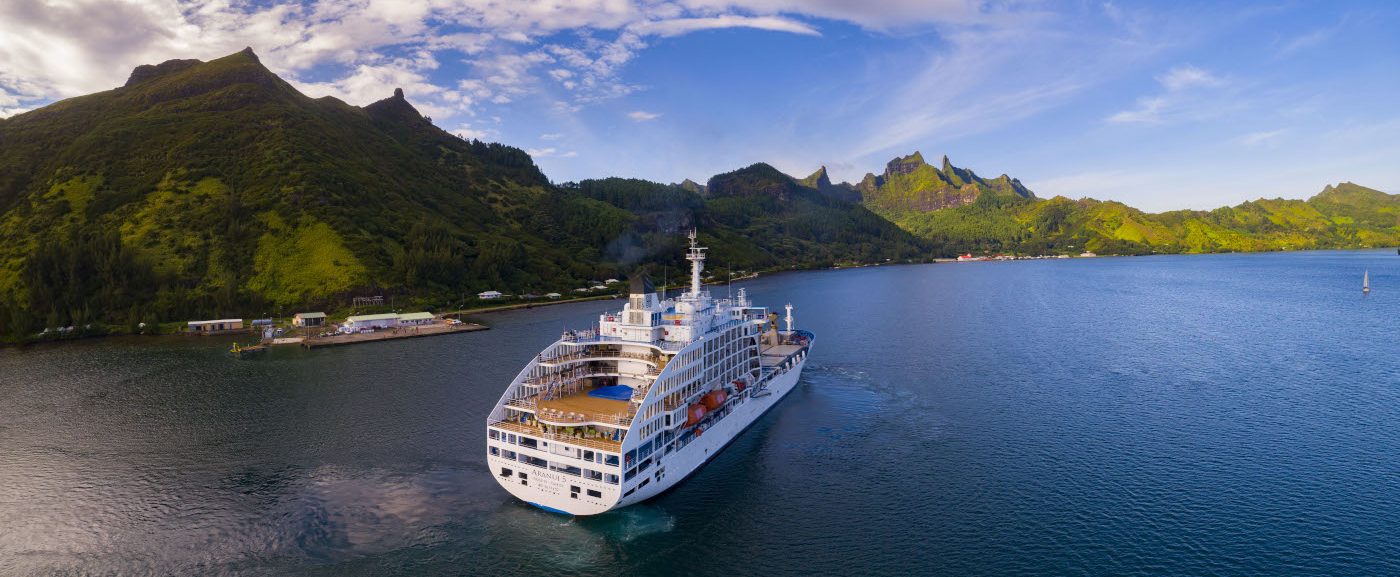 Day 13
THURSDAY – Return to Tahiti (Papeete)
This is the end of our journey. It's time to say Nānā! (Goodbye) to your travel companions, to the Polynesian staff and Aranui guides. Arrival around 8.00 AM.
What's included
RATES INCLUDE
Cruise transportation and related taxes (tourist tax, port tax, fuel, TDC), shipboard accommodation, 3 meals per day, a bottle of wine to share among 4 passengers for scheduled onboard meals, lunches in local restaurants, planned guided shore excursions to remote villages and archaeological sites, cultural dance shows, lecturers onsite and onboard. Rates are per adult, in double or single occupancy. These fares are correct at the time of printing and are subject to change; with or without notice.
RATES DO NOT INCLUDE
Shipboard purchases, liquor, gratuities, port taxes other than those specifically provided for, and other personal items. Rates quoted at the time of printing are based on current costs and are subject to change up to and including the date of sailing.
CONDITIONS
– Children admitted from 1 year old.
– Children from 3 to 15 years old, sharing the parents' cabin: 50% discount on the adult rate.
– 25% deposit upon confirmation of booking and balance 30 days before departure.
– Single supplement : 50% on the basic rate.
– 3rd and 4th adult sharing the cabin: 25% discount on the basic rate.
SCHEDULE & EXTRA COST PROVISION
If, due to weather or other uncontrollable reasons, you are required to spend one or more additional nights, you will be responsible for your own hotel and meal costs. In addition, because the primary function of vessels in the service of Compagnie Polynesienne de Transport Maritime is to carry freight, the departure dates, ports of call, and duration of cruises may be subject to variation both prior to departure and en route. Freighter passengers should have a flexible time schedule and anticipate the foregoing possibilities. While we do everything possible to inform and assist our clients, neither CPTM nor its agents will assume additional expenses, hotel or meal costs associated with delays or changes in itinerary and schedules.
ITINERARY CHANGES
Routes and activities are indicative and can be modified according to weather conditions or availability. CPTM pledges to make every effort to operate all cruises as advertised. CPTM reserves the right to alter or curtail the itinerary, or substitute sightseeing, ports of call or conveyances as deemed necessary.
Speakers
Guest lecturers who specialise in the Marquesas and other fields related to French Polynesia such as history, culture, art or archaeology, will share their knowledge and insights as part of a series of onboard lectures throughout the year. Lectures are held in conference rooms.
Optional excursions
At every port, guests can enjoy an array of included excursions.  For a bit more adventure, there are plenty of optional activities to choose from. The optional activities can be booked onboard, at an additional cost.