What memories to bring back from your stay in Polynesia?
---
28/03/2023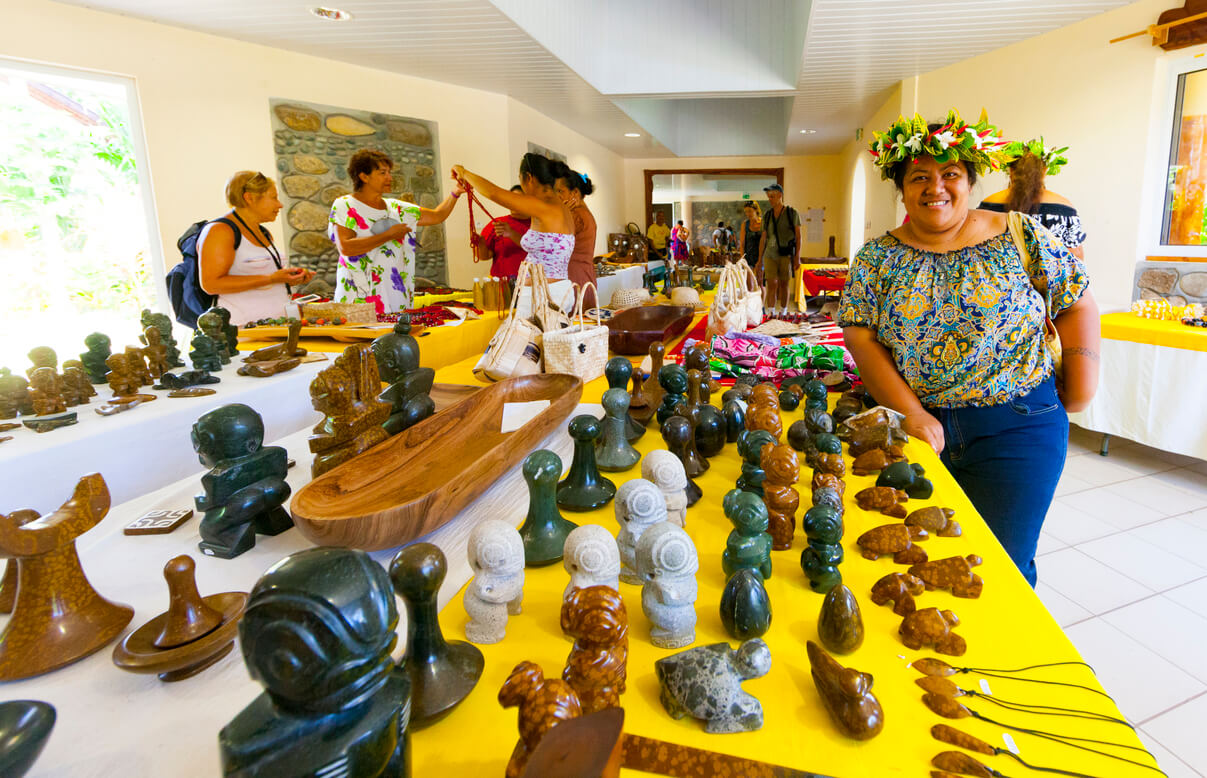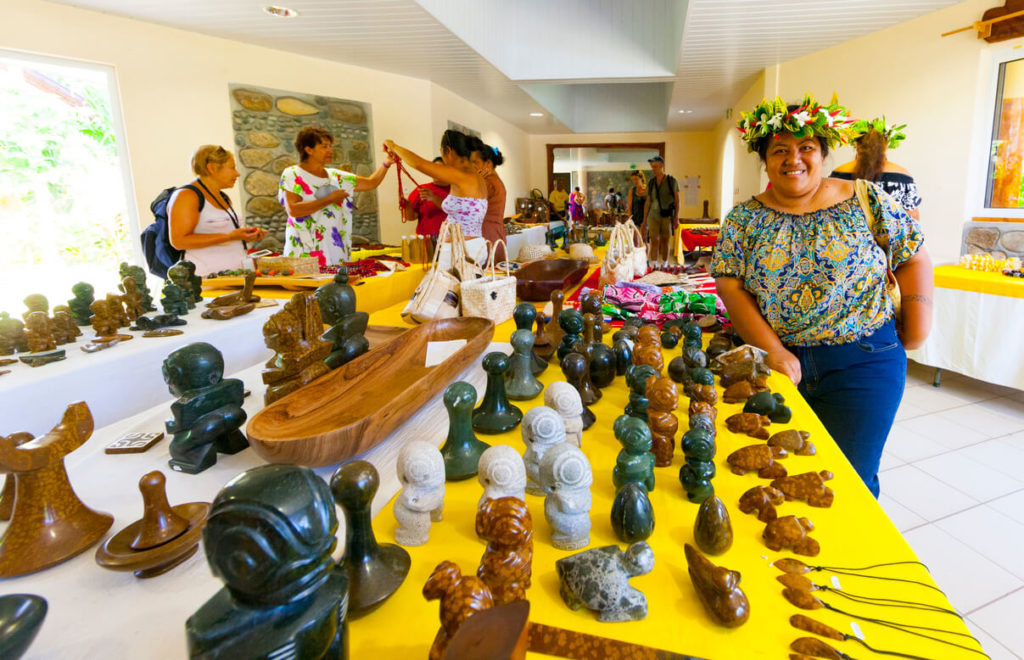 In addition to the intangible memories of the sweet-smelling Tiare flower or the haunting sound of the ukelele there are numerous ways to remember a trip to French Polynesia. So be sure to leave plenty of room in your suitcase to pick up souvenirs and bring back some incredible Polynesian memories of a stay in the islands of Tahiti. You won't be disappointed.
Popular items include jewellery, crafts, sarongs, monoi oil, carvings and gourmet products with shops, markets, and craft centres to be found all over the islands. You can also buy crafts directly from the producers and craftspeople at local craft centres during your stay in French Polynesia.
The vibrant market in Papeete, the capital of Tahiti, is one of the first places to start your search for gifts. There you will see stalls laden with local crafts ranging from brightly painted pareos to hand woven baskets, colourful works of art, and finely crafted jewellery stalls featuring the famous black pearls for which French Polynesia is famous. The two-storey Vaima shopping centre in the centre of Papeete also has a wide range of souvenirs shops and galleries to explore.
Be sure to visit some of the supermarkets to find local food products or pick up cosmetics in the perfume stops and pharmacies. Hotel shops will also have a large selection of souvenirs and on board the cruise ship Aranui there is a well-stocked shop with clothes, books, jewellery and beautiful floral headdresses as well as postcards to send home, key rings and other small objects as reminders of your time on board ship.
What crafts will you find on which islands?
Across the islands there are a range of master craftsmen who create the most exquisite and unique handmade souvenirs. On the Marquesas experts use a variety of materials from shells, seeds, and mother of pearl to bone, wood, and stone to create exquisitely crafted pieces. You will find some islands specialise on a particular material so when on Fatu Hiva you should look out for traditional motifs and drawings on hand made Tapa bark cloth or pick up a beautifully handmade wooden Ukelele on Ua Huka, while on Tahuata be sure to find the stalls selling fine bone carvings made into jewellery and ornaments.
What sort of objects can you buy?
Items come in a variety of shapes and sizes with popular items being carvings of miniature tiki statues, recreations of oars or spears and ceremonial clubs. You will also find intricately carved plates and bowls made out of coconut shells or stone pestle and mortars.
Tikis are a universal symbol of Polynesia and appear not only on carvings but also as symbols to denote a protective role. The tiki, according to legend, created man. Polynesians worshipped them, and the body proportions were designed to represent strength, beauty, and prosperity, with a triangular, neckless head symbolising power and big eyes evoking knowledge and supernatural power. Often made of wood, stone, and bone by the Marquesan craftsmen, who are regarded as some of Oceania's and the world's best wood carvers, examples of their craftsmanship can be found in craft centres across the Marquesas using noble woods such as Miro (Oceania's rosewood) or Tou (walnut of Oceania).
You might even decide to bring back an indelible souvenir to remember your unforgettable trip in the form of a Polynesian tattoo. Artists can be found across the islands and are well known for their art and creativity. Should you decide to get one, strict hygiene requirements are enforced on all the islands. You can even have a tattoo whilst at sea aboard Aranui where their resident tattoo artists Eddy and Moana will be delighted to create a special and meaningful tattoo for you.
What can you buy in the Austral islands?
Much like the Marquesas Islands, the Austral Islanders are renowned for their craftsmanship, with the 'mammas' of Rurutu famous throughout the islands for their craftwork, the knowledge of which has been handed down from one generation to the next. Favourite items include woven hats, mats, bags, and other life essentials made from dried pandanus leaves. In days gone by, woven mats were a symbol of wealth throughout Polynesia and were used as gifts to newlyweds. In addition to weaving, the Austral Island women are masters in the making of 'tifaifai', traditional patchwork blankets that feature exotic patterns. These can be purchased at the artist markets in the airport and in Avera village.
Where can you buy Tahiti cultured pearls and jewellery?
Tahiti cultured pearls from the Tuamotu and the Gambier Islands are the must-have souvenirs for every visitor. Be sure to visit a pearl farm to watch the process by which the pearls are created in their shells and subsequently harvested, then buy pearls mounted or unmounted as pendants, earrings, bracelets, rings. Prices vary and depend on a number of criteria such as the quality, lustre, size and shape of the pearl. Strict regulation guarantees the quality of the pearls, and you can request a certificate of authenticity from your seller. Master craftsmen and designers compete to combine pearls mother of pearl shells and use other natural materials such as wood, bone, leather, fabric and etc. to produce original pieces.
Why is Tahitian vanilla so expensive?
Another highly prized and must-buy product to bring home from French Polynesia, is locally grown Tahitian vanilla. Prices vary, but keep in mind that the expensive process of producing authentic vanilla makes it the world's second most valuable spice (second only to saffron) due to an extremely labour-intensive process that produces only small crops.
Vanilla beans are the fruit of an orchid, with 80% coming from Taha'a in the Society Islands, about 150 miles east of Tahiti. Each delicate vanilla flower is hand pollinated during the plants' flowering season, which lasts from July to September. Because each bloom only lasts about 6 hours, the farmer must act quickly but delicately to ensure that each flower is pollinated before it closes and withers away. The successfully pollinated flowers develop into the Tahitian vanilla bean, which has a complex, luxurious, and intensely aromatic flavour and is used a variety of Tahitian cooking, not only in sweet confections but also in savoury dishes.
What is Tahitian Noni juice?
The health benefits of Tahitian noni juice are legendary, with many holistic practitioners praising it for its high antioxidant and mineral qualities. It is said to be good for skin care, anti-aging, immunity boosting and even cancer-fighting due to its high concentration of antioxidants. However, Tahitian noni juice comes from humble beginnings as a very common fruit found everywhere throughout the Islands of Tahiti and other regions of the South Pacific. Rarely eaten in its fruit form the juice puree is best mixed with other juices such as grape or blackberry to make it more palatable. Noni juice can be found at supermarkets and fruit stands all over Tahiti and the other islands or pick up a bottle in the Tourists shop at the Faa'a International Airport prior to your departure.
What are the health benefits of Le Corossol or Soursop?
Le Corossol or Soursop, is another super food of Tahiti and her islands. Its highly prized for its many virtues including being high in carbohydrates, especially fructose, and containing significant amounts of vitamins C, B1, B2 and amino acids. It also contains fibre and minerals, including potassium, calcium, and magnesium. Pick up a bottle at the supermarket and mix it with milk and a little sugar, before popping it into the refrigerator for an hour to make a delicious pudding, or mix it with fruit juice drinks, jam, and even sorbets for a health giving dessert.
What natural cosmetic should you buy in Tahiti?
Polynesia is rich in natural resources, and its thriving flora hold beauty secrets that Polynesians have known for centuries. Monoi de Tahiti, a citrusy fragrance with hints of gardenia, lily-of-the-valley, jasmine, and spice, has been manufactured commercially in Tahiti since the mid-twentieth century and is available in shops throughout French Polynesia. It is made with pure coconut oil and the fragrance of 'tiare', the Tahitian Gardenia flower and has been used by Polynesians for centuries to replenish the body's natural skin and hair oils. The coconut oil used in Monoi Tiare Tahiti is so refined that it is quickly absorbed by the skin, and it is this level of refinement that distinguishes Monoi.
'A Re'a Moeruru', also known as Wild Ginger, is another natural beauty treatment to bring home. This 100% natural shampoo is derived from a beautiful ornamental plant with a leafy stem that can grow up to 1.2m in length. Its greenish bracts turn crimson red as it grows, earning it the nickname 'ginger pinecone'. Press the flower between your fingers until a clear, viscous gel begins to flow out, or simply buy a bottle from the supermarket for clean, soft, and silky looking hair.
What local fabrics and clothing crafts should you take home?
The traditional pareo can be found throughout the Tahitian Islands. The simple yet colourful fabric is worn in place of skirts, dresses, shorts, and shawls and also used as a substitute for towels when lying on the sand. They are an inexpensive means of dressing both casually and elegantly and are the perfect souvenir to take home. Often decorated with traditional designs and flamboyant colours, and tied in a wide range of different styles, the market in Papeete has one of the best selections of pareos, including some that have been hand painted by local artists.
The Tifaifai is a traditional Polynesian handicraft symbol. Tifaifai, which translates as "applique," is a patchwork of two or more pieces of fabric. Originally, these were two sheets of different colours worked together to form geometrical or flower patterns and were intended to be used as a quilt to cover a bed, a piece of furniture, or a couch. They are also given as symbols of affection and love at weddings or as a farewell gift. To see the entire sheet, those that are still traditionally sewn require a group of 4 or 5 women working around a large table. While they are quite expensive to purchase, you can find them at the Papeete Market or at craft fairs such as the Tifaifai exposition.
Tapa is another must have piece of traditional Tahitian craft to bring home. Made from the inner bark of trees such as the paper mulberry, the Breadfruit, and the Banyan Tree it is then repeatedly folded and beaten with wooden clubs, on an anvil so as to interweave the fibres and create a kind of felt. Once the Tapa has dried and starched it is painted within intricate motifs from Tikis to turtles and is an important part of the cultural heritage of Pacific Island societies. As an object of prestige as well as for everyday use, it is in French Polynesia where the technique has been perfected like nowhere else. The large craft market at Omoa on Fatu Hiva is one of the best places to see a wide range of Tapa designs.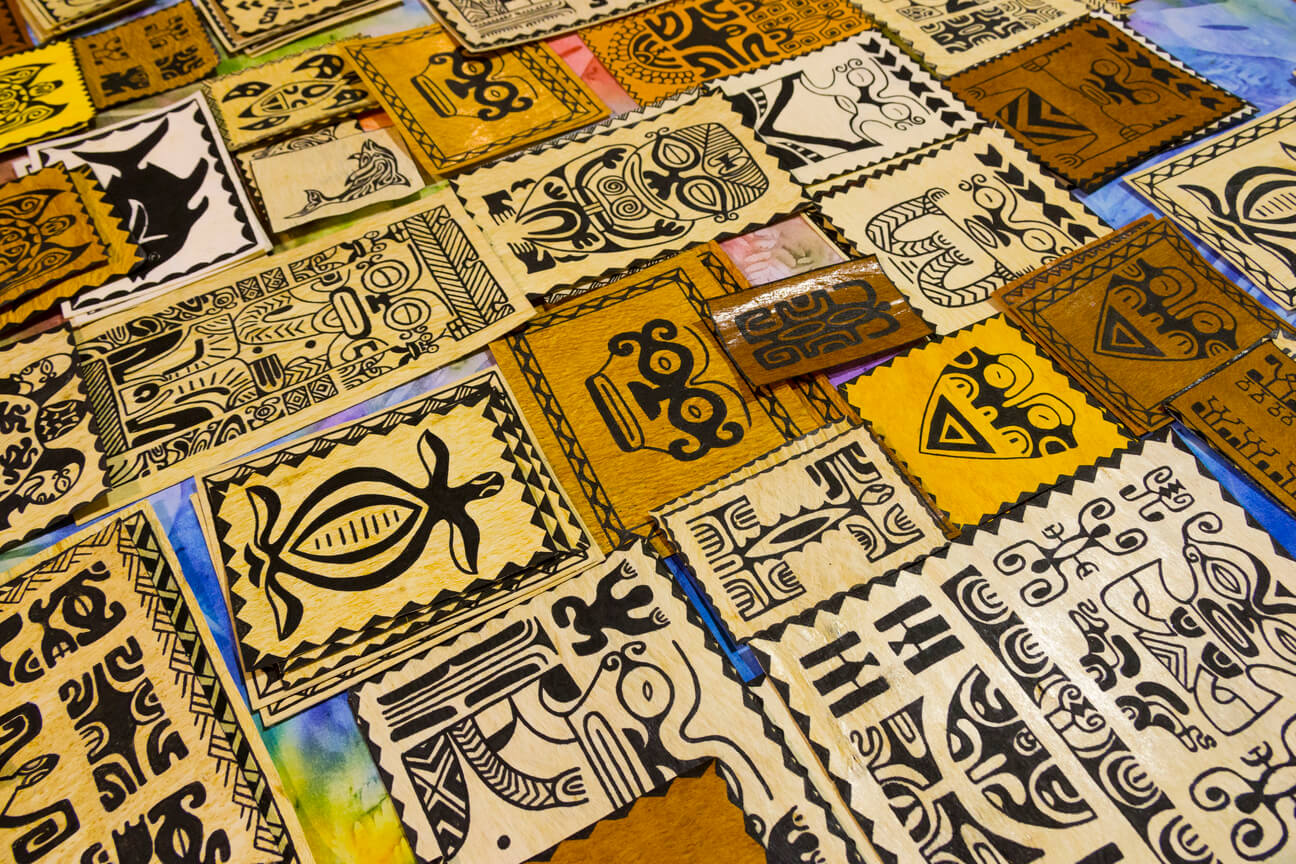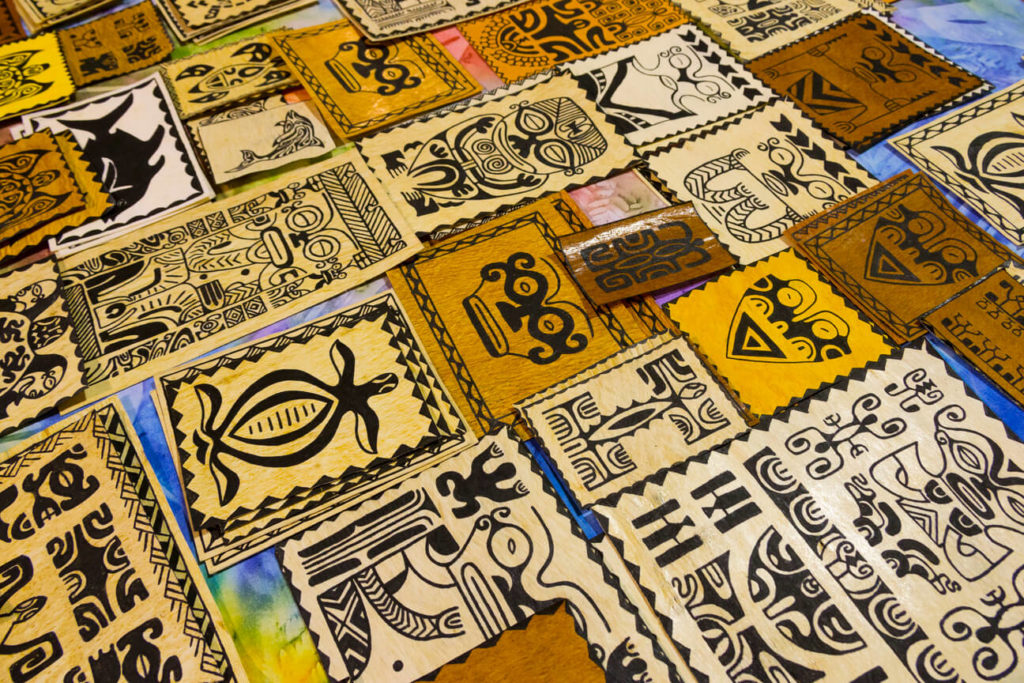 Conclusion
Bear in mind that most of the small shops and craft centres do not take credit cards so be sure to bring plenty of local currency with you. You can change money at ATMs in Papeete and the larger villages on the islands but some of small islands, such as Ua Huka and Tahuata do not have an ATM.
---
read also