VSD: "Exquisite Marquesas"
---
03/08/2021
VSD published an article on the Aranui 5 which transports food and perpetuates Marquesan culture
In September 2018, VSD published an article about the Aranui 5 and the Marquesas Islands, written by Erik Sampers. The journalist talks about the half delivery cargo ship, half cruise ship that connects Tahiti to the Marquesas archipelago, offering passengers an original immersive experience in Polynesian culture.
Read the full article here.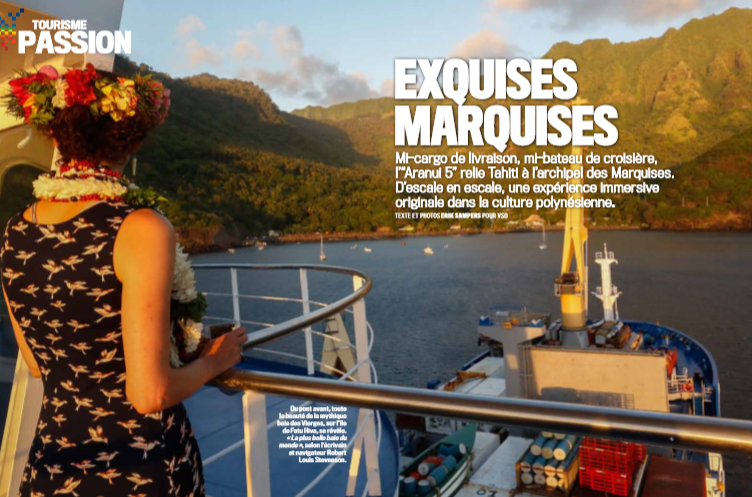 Extract:
«Onze confettis jetés au beau milieu du Pacifique Sud, très loin du continent et à 1 400 km de Papeete (sur l'île de Tahiti), la capitale de la Polynésie française. Effleurant le tropique du Capricorne, les Marquises ont toujours fasciné par leur exotisme souriant, leurs forêts prolixes, leur vahinés auréolées de fleurs éclatantes, la puissance océane qui les caresse d'une brume légère et les fouette aussi de vagues furieuses. A 18 000 km de la Métropole, elles ont le magnétisme de ces terres fantasmées, lointaines et libres, capables d'engendrer la renaissance d'âmes au bout du rouleau. Citons Paul Gauguin et Jacques Brel qui, à soixante-dix ans d'écart, élirent domicile sur Hiva Oa, où ils reposent désormais en voisins de cimetière. »
---
read also