Singing and dancing: Two Polynesian traditions to discover on a cruise to the Marquesas Islands!
---
22/03/2021
During a cruise to the Marquesas Islands aboard Aranui 5, dive in to the heart of Polynesian traditions and take an intimate and authentic journey to explore the richness of the ancestral culture, in its still preserved spaces. Discover the songs and dances, enhanced and organised every year by the "Marquesas Arts Festival"!
Discover the mysterious history of Polynesian dances and songs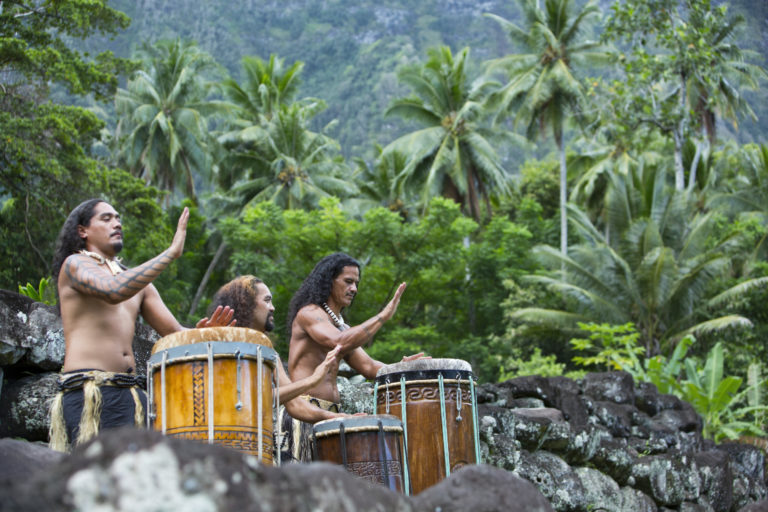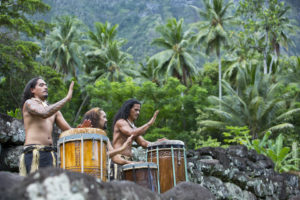 Disembarking from the passenger/cargo ship Aranui 5, during your cruise Marquesas Islands, and you will witness a magnificent spectacle: reacting to the rhythm – sometimes slow, sometimes fast – of the rolling of the pahu (drums) and the slamming of the to'ere (hollow wooden cylinder), the Tahitian dancers engage in an ancestral dance, the tamure. The men, half crouching, make scissor movements when the women, with the upper body perfectly still, sway and roll their hips.
These dances are accompanied by songs (the "aparima"), mostly religious, with every gesture telling its own story. For example, the sea (te miti) results in a ripple of the dancers' hands and the sun (te mahana) by a circle drawn in the sky.
The Marquesas Arts Festival, the highlight of your cruise to the Marquesas Islands
At the edge of the world, between wild bays and lush vegetation, are the Marquesas Islands. A cruise to these mythical islands takes you to discover a culture rich in authentic traditions. Every two years, the Marquesas Islands Arts Festival brings together several groups of dances and songs, as well as culinary tasting workshops, demonstrations of traditional know-how, traditional ceremonies and the art of tattooing.
Through this festive event, it is possible to admire Marquesian dances such as the "dance of the pig", the "bird dance". Impressive artistic performances reminiscent of Polynesian war dances.
In Tahiti, it is the "Heiva i Tahiti" which brings together artistic groups of dances and songs every July, with athletes who excel in some traditional sports, such as javelin throwing, stone-raising, canoeing…
The Heiva i Tahiti celebrates the "Ori Tahiti" also known as the "Tamure". A bewitching fusion of Otea, a technical and very physical dance and Aparima, a rhythmic and sung dance.
Thus immersed in Polynesian life, thanks to the uniqueness of our cruises in the Marquesas Islands, you will be able to witness both performances of Tamure, but also less well-known dances, specific to the Marquesas.
It is not just dances and songs, but an absolutely essential link between the Marquesans.
---
read also