Les Echos: "The Marquesas, ultimate Polynesia"
---
29/07/2021
French newspaper Les Echos published an article about the Aranui 5
On May 27,2018, Les Echos published an article on Marquesas Islands, written by Anne Marie Gélinet. The journalist describes the itinerary of the Aranui, which provides year-round supplies to the most isolated archipelago in French Polynesia and one of the best preserved too.
Read the full article here.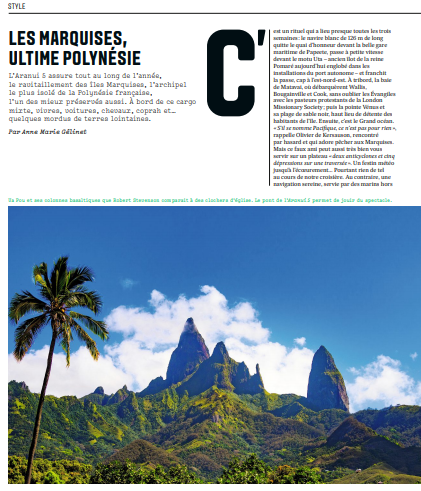 Extract:
"C'est un rituel qui a lieu presque toutes les trois semaines : le navire blanc de 126 m de long quitte le quai d'honneur devant la belle gare maritime de Papeete, passe à petite vitesse devant le motu Uta – ancien îlot de la reine Pomaré aujourd'hui englobé dans les installations du port autonome – et franchit la passe, cap à l'est-nord-est. À tribord, la baie de Matavai, où débarquèrent Wallis, Bougainville et Cook, sans oublier les Évangiles avec les pasteurs protestants de la London Missionary Society ; puis la pointe Vénus et sa plage de sable noir, haut lieu de détente des habitants de l'île. Ensuite, c'est le Grand océan."
---
read also