Le Figaro: "Aranui, ultimate stopovers in the South Pacific"
---
29/07/2021
French magazine Le Figaro published an article about the Aranui
On May 2nd, 2019, Le Figaro published an article dedicated to the Aranui, written by Jean-Bernard Carillet. The journalist talks about his experience on board the mixed cargo ship "Aranui 5" for a unique cruise to discover a Polynesia that we never see. With, as a highlight, the island of Pitcairn.
Read the full article here.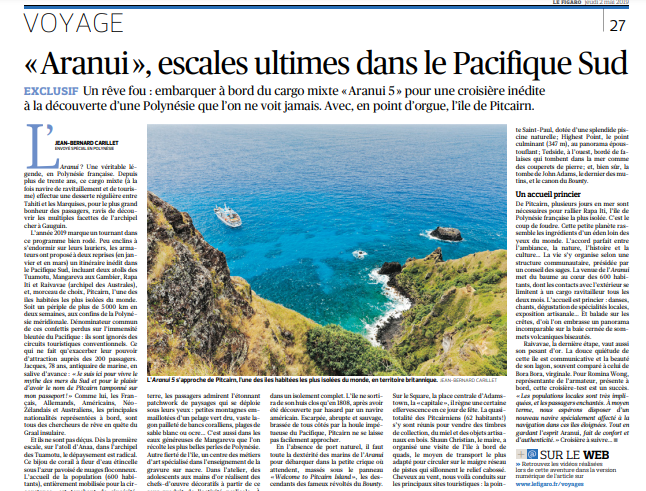 Extract:
"morceau de choix, Pitcairn, l'une des îles habitées les plus isolées du monde.Soit un périple de plus de 5 000 km en deux semaines, aux confins de la Polynésie méridionale. Dénominateur commun de ces confettis perdus sur l'immensité bleutée du Pacifique : ils sont ignorés des circuits touristiques conventionnels. Ce qui ne fait qu'exacerber leur pouvoir d'attraction auprès des 200 passagers.. "
---
read also