Discover Rangiroa, a hidden gem of French Polynesia
---
17/03/2023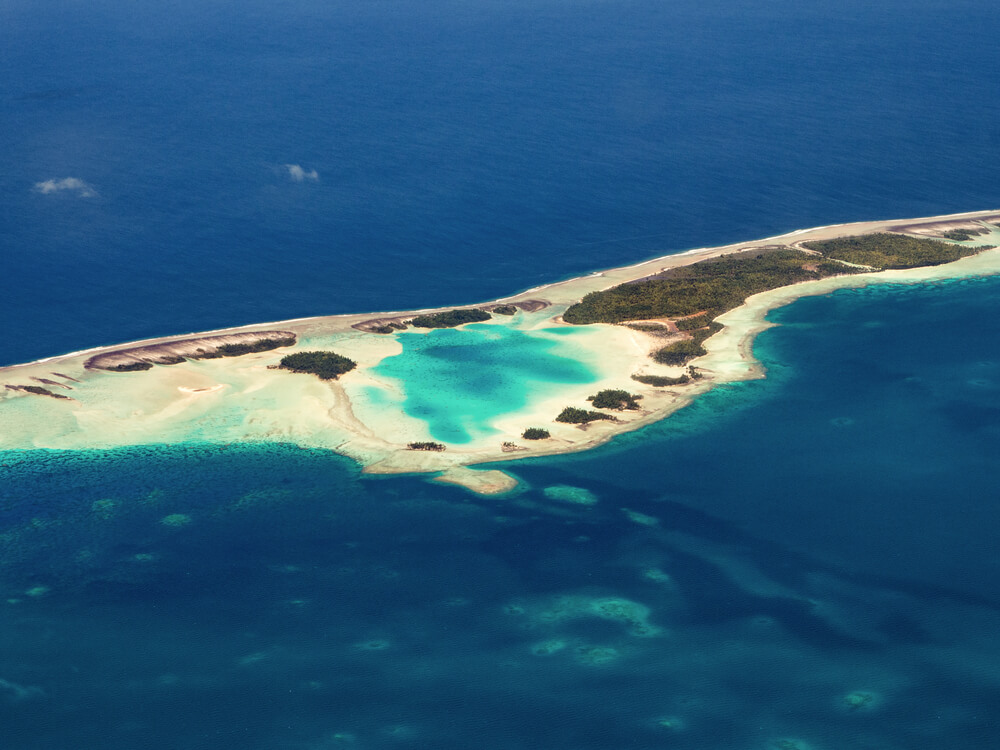 Rangiroa, the largest atoll in French Polynesia and the second largest in the world, is located in the Tuamotu archipelago, and is definitely a dream destination. Thanks to the Aranui 5 cruise, travellers can discover this paradise island with its white sand beaches and multicoloured coral gardens. Its lagoon is an invitation to discover a rich and preserved marine biodiversity unique in the Pacific Ocean.
Dolphins, sharks, manta rays and sea turtles are just a few of the many sea creatures that can be observed during dives or boat trips in Rangiroa. Scuba diving here is rated as some of the best in the world.
Most of the inhabitants, known as Paumotus, live in Avatoru, the main village, and Tiputa, Rangiroa's largest village, both of which are located on the edge of the two passes from which they take their names.
Guests of Aranui 5 can also experience the local culture and life of the atoll's inhabitants by visiting traditional villages and locally produced black pearls are one of the most popular souvenirs for travellers to purchase during the ship's stopover at the atoll.
Explore the wonders of Rangiroa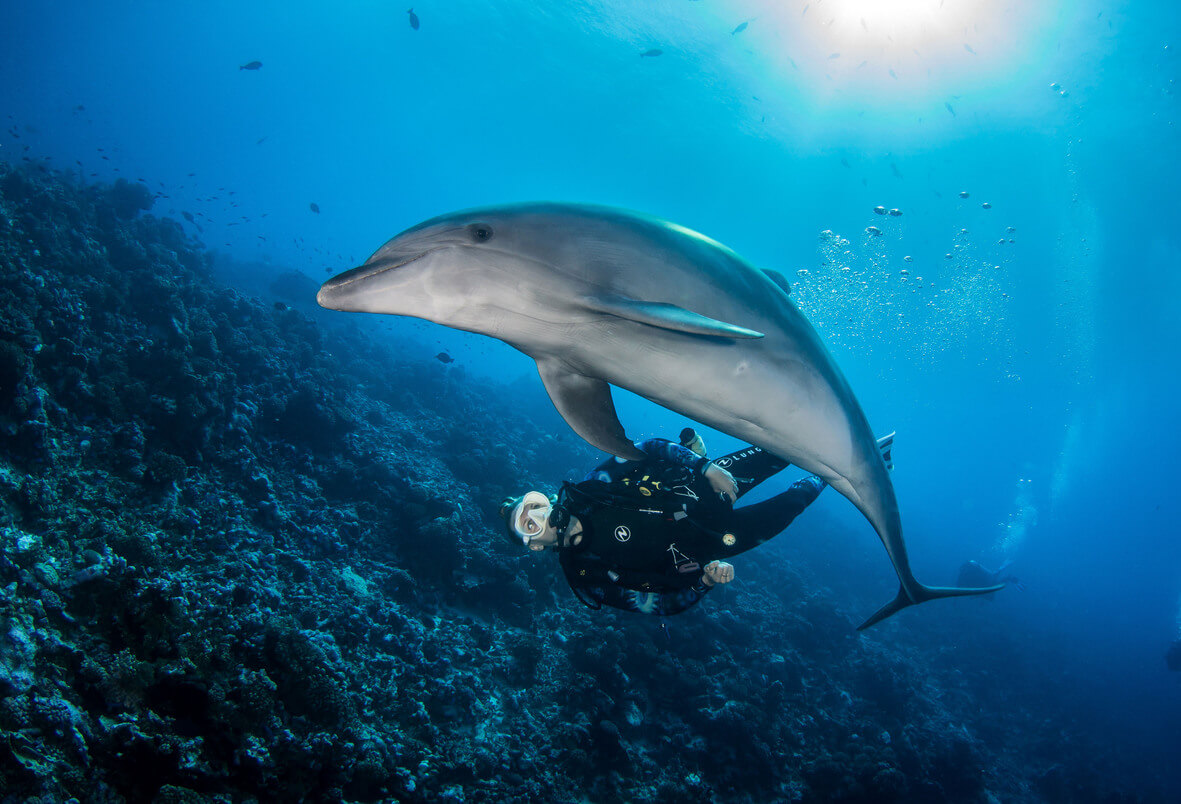 Rangiroa is a unique place to explore the wonders of French Polynesia. This vast atoll of unparalleled beauty offers a variety of fascinating landscapes and geological phenomena.
With a surface area of over 1000 km², it is one of the largest lagoons in the world with warm and translucent water that is ideal for swimming.
It is home to an incredible variety of marine life, including colourful fish, sea turtles and dolphins, which live in a healthy and unspoilt environment.
The coral reef surrounding the atoll is one of the geological treasures of Rangiroa and the Tuamotu Archipelago. It covers almost 300 km² and is made up of a multitude of coral formations and multicoloured coral gardens.
Another fascinating geological phenomenon to explore on a scuba dive is the Trou Bleu of Rangiroa (a large underwater cavity that descends to a depth of more than 100 metres), or the motu, Rangiroa's small white sandy islets. There are many excursions to explore the island and discover the hidden treasures of this fabulous Tuamotu lagoon.
Immerse yourself in the culture and history of Rangiroa
Rangiroa is not only a place of unspoiled natural beauty, but also an island with a rich history and distinct culture that is well worth exploring.
In Tahitian, Rangiroa is also called Ra'iroa, meaning "huge sky". And for good reason: 280 km in circumference surrounding a lagoon 77 km long and 26 km wide. The largest atoll in Polynesia is also the second largest in the world in terms of the size of its lagoon.
Rangiroa is made up of nearly 250 islets interspersed with hōā, shallow channels connecting ocean and lagoon, as well as two passes: Tīputa and Avatoru. Rangiroa was first sighted in 1616 by the Dutch navigators Le Maire and Schoutter, and traces of pre-European settlement and civilisation are still present in the form of marae. Much later, around 1860, the first Europeans to settle permanently were Catholic missionaries.
Rangiroa's traditional culture is marked by music, dance and crafts. Traditional songs and dances are often accompanied by drums and ukuleles and are a living expression of the history and traditions of the atoll. The people of Rangiroa are also known for their handicrafts, particularly the production of black Tahitian pearls, fabrics and woven pandanus baskets.
What to do in Rangiroa? Experience unforgettable adventures
Rangiroa is a beautiful place in French Polynesia, offering a variety of activities for travellers looking for adventure and discovery. Here are some ideas for activities to do in Rangiroa for unforgettable adventures:
Scuba diving:
Rangiroa is one of the world's top destinations for scuba diving, with crystal clear waters and abundant marine life. You can explore the coral reefs and swim with sharks, manta rays, dolphins and other fascinating marine life. For those who prefer not to scuba dive, snorkeling is a great alternative to observe Rangiroa's colorful marine life and swim with tropical fish, sea turtles and even black-tip sharks.
Lazing on heavenly beaches:
With its crystal clear lagoon, Rangiroa offers a variety of paradise beaches to suit all tastes. Sailing from beach to beach by boat is a real adventure. The Sables Roses beach, where the white sand mixes with a unique shade of pink, the Ohotu beach, located on the east side of the lagoon, offers a moment of relaxation and serenity, the Avatoru beach, known for its abundant marine fauna and crystal clear waters, is a place where you can admire dolphins… or the Maitai beach, isolated and only accessible by boat, this beach is a real hidden gem with its turquoise waters and white sand.
Visit pearl farms:
French Polynesia is famous for its black pearls, and Rangiroa is home to several pearl farms. It is possible to visit these pearl farms and learn how Tahitian black pearls are grown, harvested and processed. A must-see excursion!
Rangiroa is an ideal tourist destination for nature lovers and adventurers. With its natural wonders, unique tourist attractions and rich culture, the island is a place to visit for an unforgettable experience in French Polynesia.
Embark on an Aranui cruise to discover Rangiroa
The Aranui cruise is a unique experience to discover Rangiroa and the other islands of French Polynesia. It is the ideal opportunity to discover the natural wonders, culture and daily life of the islands, while enjoying the comfort and modern amenities of the ship. Aranui is a legendary supply ship, carrying cargo and passengers to the remote islands of French Polynesia.
The cruise begins in Tahiti, where passengers board the Aranui 5 for a journey to discover the hidden treasures of Polynesia. Throughout the cruise, the beautiful landscapes of French Polynesia pass by smoothly, with stops at fascinating islands such as Nuku Hiva, Fakarava, and Rangiroa.
In Rangiroa, passengers will be greeted by white sandy beaches and crystal clear waters, with organised excursions to discover the atoll's natural wonders. It's possible to snorkel the colourful coral reefs, observe the abundant marine life, and explore the deserted islands and picturesque motus. On board the Aranui, optional day trips can be booked, such as the glass-bottom boat or diving. For the latter, an advanced level of diving is recommended as it is aimed at certified divers.
Our heavenly cargo ship offers a dream escape to Rangiroa, where the lucky ones will have the opportunity to have an improbable encounter: that of a family of dolphins playing with the eddies created by the boat's bulb, in the Tiputa pass. Don't forget to take photos and videos to immortalise these daydream-like images that will certainly make you say you've had the trip of a lifetime!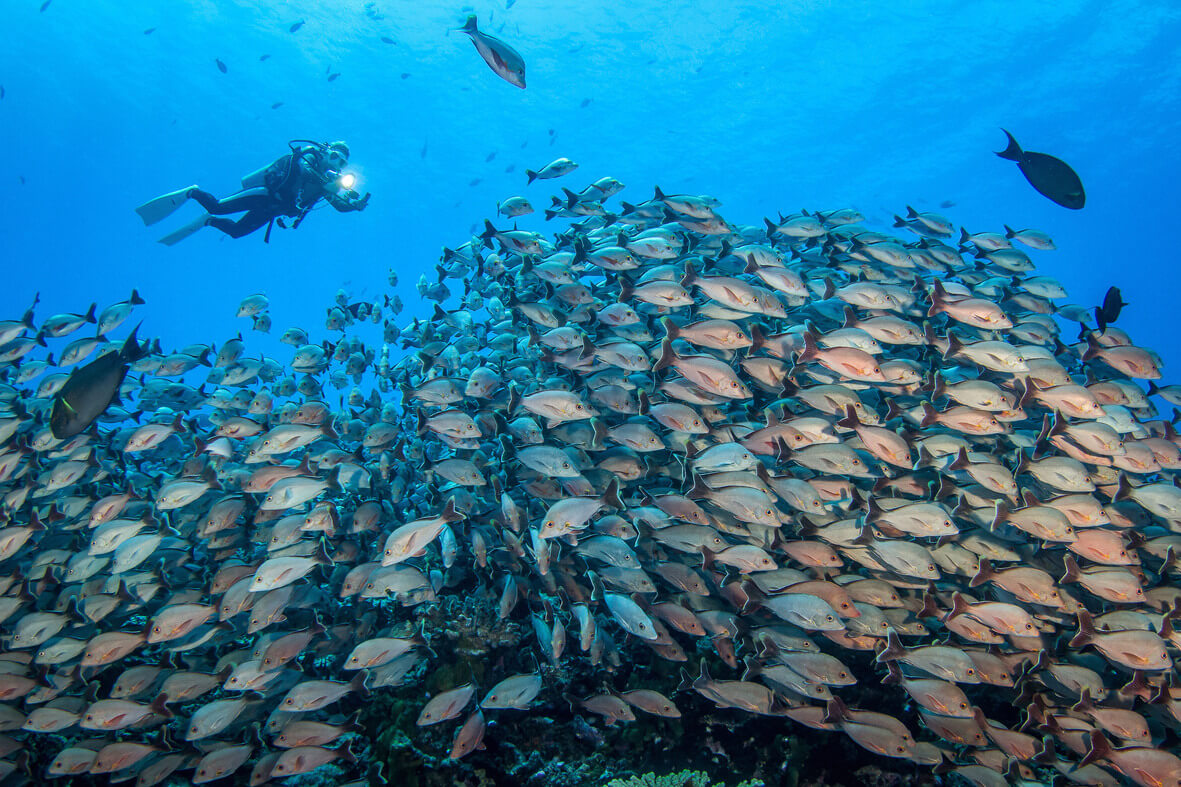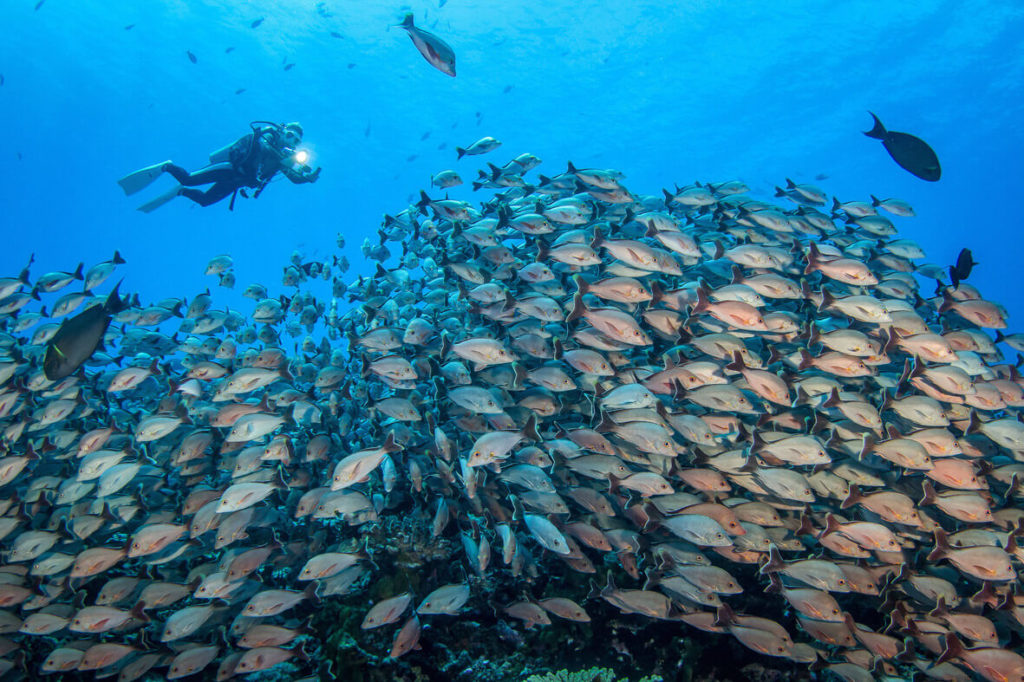 Rangiroa is a unique place that deserves to be discovered during a trip to French Polynesia. The Aranui 5 cruise is a great option to explore Rangiroa and its atolls. This cruise allows you to discover the most spectacular sites in Polynesia, enjoy the natural beauty of Rangiroa, snorkel or dive, meet the locals and discover the Polynesian culture.
---
read also