Aranui 5: a cargo and cruise ship for an adventure cruise in the Marquesas
---
22/03/2021
Your cruise in the Marquesas Islands will have an exceptional flavour aboard this passenger/cargo ship, that has been custom-built for your comfort. The Aranui experience is unique and is offered by Polynesians eager to show you their islands, which are marked by ancient traditions and authenticity.
Why choose a passenger/cargo cruise in the Marquesas Islands?
With 35 years' experience, Aranui 5 welcomes you on board for the combined freight and passenger transport to the Marquesas Islands. The ship's purely Polynesian staff personify the image of these distant lands – warm and caring and eager to make known to their guests their lands and their traditions.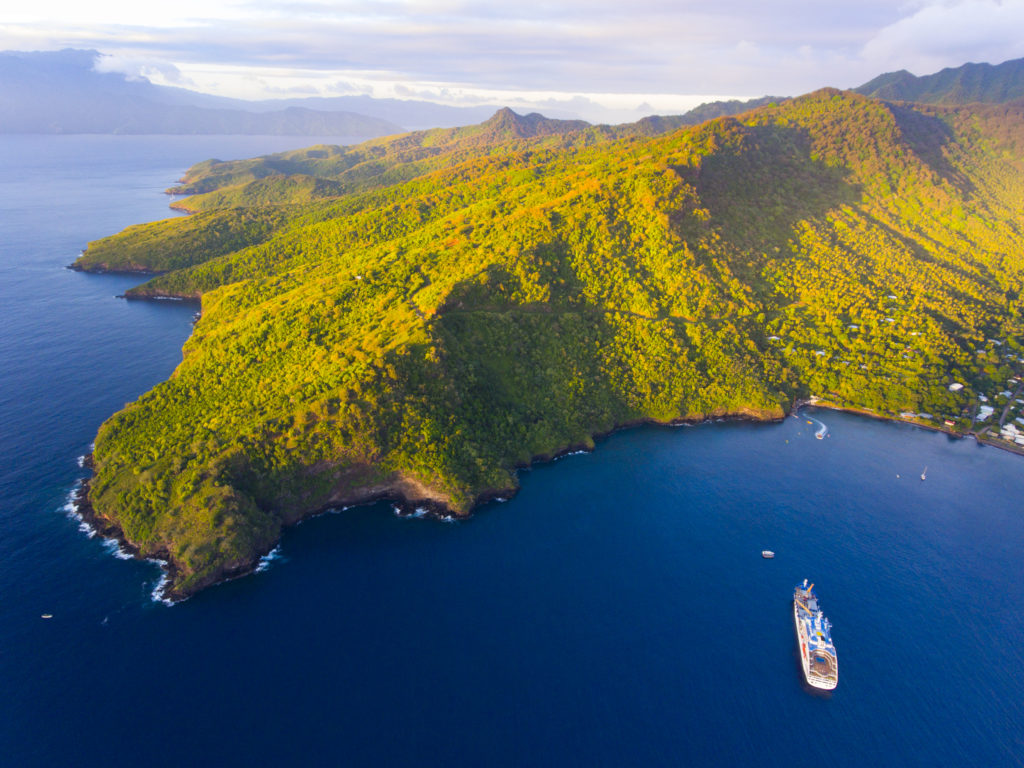 In this friendly and relaxed atmosphere, you can enjoy all the services of Aranui 5: in the common areas, a little relaxation on the deck or a refreshing dive in the pool against the background of the surrounding islands and in the evening themed dinners and entertainment in the colours of Polynesia. In the Suites and Deluxe cabins of your cruise in Polynesia and the Marquesas Islands, taste the fresh air and beautiful sunsets from the privacy of your own balcony…
The most intimate way to immerse yourself in Marquesan life, and contemplate the lush landscapes is to discover the Mana and listen to the mystical Songs of Marquesas on board Aranui 5.
This unique passenger/cargo ship is the vital link between the different islands of Polynesia and the outside world. Thanks to its low draught, it sneaks in to small bays inaccessible to larger ocean liners. This allows it to provide supplies to the harder to reach islands and offers passengers and lovers of distant lands an exceptional cruise experience.
A Marquesas cruise, full of surprises and adventures!
What could be better than a unique and intoxicating adventure? Aranui 5 opens the doors to the most remote islands in the world. Its cargo activity allows passengers to discover villages that no other ship serves. An exploration cruise dotted with visits to wild islands and deep verdant valleys!
Beyond the exceptional comfort of this passenger/cargo ship, the Aranui experience offers many unique discoveries throughout the cruise in the Marquesas Islands: from a dive into the heart of the "Land of Men"; to Fakarava, the second largest atoll in French Polynesia and a classified Biosphere Reserve by UNESCO, or a visit to the village of Rotoava with its coral-built church. On board Aranui 5, in the heart of one of our
cruises in the Marquesas Islands, the dream is created to the rhythm of unexpected discoveries and the mystical gallop of wild horses!