SOCIAL & ENVIRONMENTAL
RESPONSIBILITY

ARANUI & THE MARQUESAS:
AN UNWAVERING BOND
Since the launch of our passenger-freighter in 1984, Aranui has become not only the primary source in terms of freight and cruises to the Marquesas, but also an unfailing link between Papeete and the Land of Men. Beyond the commercial aspect inherent with all shipping companies, Aranui has set a course of action and an obligation to support these remote islands.

Aranui ensures the distribution of Marquesan goods carried in her holds whether in raw form (most notably agriculture) or manufactured (arts and crafts). With the transport of people, travel professionals or tourists as well as essential infrastructure supplies for the islands and its services, Aranui is a major economic player in the archipelago.
During the cruises, experts from the Marquesas and other lecturers contribute to the cultural quality of the trip, while also promoting a better knowledge of the archipelago's history. Cultural events also receive assistance from the company, which helps guarantee the quality of Marquesan festivals. Cultural organisations receive preferential fares for their passage and the transport of their goods, especially during the Marquesan Expo in Papeete.
The Marquesas are remote and isolated. So are Marquesan youths. This is why Aranui provides financial assistance in collaboration with other organisations and free transport for all school materials needed for education including school bags, books, various school supplies and computer equipment for the students as well as the educational centres of the Marquesas. Additionally, Aranui provides financial assistance to young athletes or promising students to help with their travel and housing expenses during sporting or school competitions. This is especially the case for the Va'a Marquesan League during the Hawaiki Nui outrigger competition.
PROMOTIONAL PARTICIPATION
The transport of people, products or works of art produced in the different islands of the Marquesas contributes to the promotion of the archipelago. Through Aranui's international sales network, the Marquesas are well promoted across the globe. It is also due to Aranui's ongoing visits to the Land of Men that the essence of the Marquesas culture is shared with the world.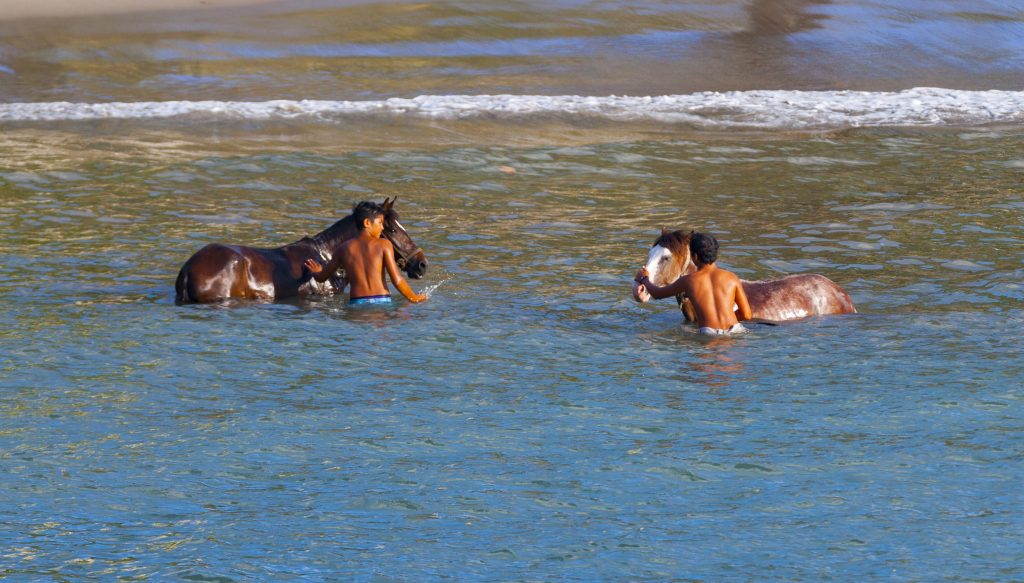 ENVIRONMENTAL RESPONSIBILITY
Since the launch of Aranui 5, the reviews have been unanimous. The comfort onboard this dual purpose ship is exceptional, from the service to the appointment of her staterooms.
Aranui's cruises are built on three strong pillars: comfort, security and the environment. Comfort cannot exist without the highest security. For this reason, the company has implemented the International Security Management (ISM) to optimise its security policies and standards for passengers and the protection of the environment.
From the management of the airconditioning system onboard, to the sorting of trash, to the eco-citizens who travel onboard, Aranui aims to minimise the ship's carbon footprint out of respect for the ocean, the islands and the people that inhabit them.